Royal fans are going wild for this adorable old video of Kate Middleton with baby Prince George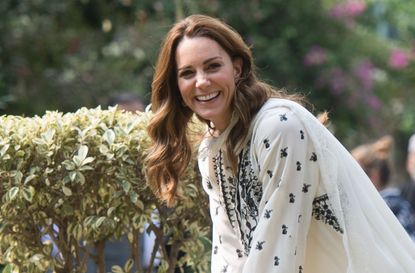 (Image credit: WireImage)
A resurfaced video of Kate Middleton playing with a then baby Prince George is delighting royal fans.
Royal fans everywhere (us included) get excited when we get to see any little glimpse of the royal babies, so it's no wonder this resurfaced clip of Kate Middleton and Prince George is catching people's attention.
The footage is from 2014, when the Duke and Duchess of Cambridge travelled to Australia and New Zealand with a young Prince George for his first royal tour.
During a day off, Kate is seen adorably playing with her firstborn, taking pictures of him and watching him as he practised his crawling.
The fan account who posted the video wrote, 'Starting off your Sunday with this adorable video of Kate, in total mom mode, playing with baby George (😭) and going for a walk with William back in 2014 while enjoying a day off from their jam packed Australia and New Zealand tour! I can't with this video! ♥️'
Many royal fans were quick to gush about the adorable moment, with one saying, 'I love this video so much!!! 😍❤️'.
Another wrote, 'Is there anything cuter than a happy baby? Love this. This is the kind of content that makes me smile 😃'.
A third added, 'This is too adorable 😍 my heart can't take it with all the cuteness!!'
It's not the first time royal fans have loved resurfaced details of Kate, Wills and George's tour.
Last year, an untold story about Kate showing George the kangaroos – reportedly told by someone whose mum knows someone who used to work where they stayed - was shared on Twitter.
It read: 'My Mum knows someone who used to work at government house in Canberra. When Kate, William and George were staying there, Kate came running (well, probably elegantly gliding) down the stairs with her hair, make up and jewellery done for the ball but still in casual clothes.
'She asked how long until they had to be dressed, because there were some kangaroos outside and she wanted to take George out to see. They sat on the grass and watched the kangaroos until it was time for her to get dressed.'
So cute! We can't wait until all three Cambridge kids go on tour with their parents again...