Kate Middleton reportedly enjoyed a mums' night out and managed to stay incognito thanks to Prince Harry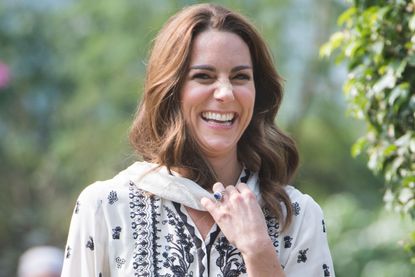 Kate Middleton has reportedly enjoyed a discreet night out with other mums - and managed to stay incognito thanks to Prince Harry.
According to the Mail on Sunday, the royal joined fellow mums on a low-key night out at a pub in Chelsea.
The reported night out is said to have happened last month, so that the mums could all get to know each other as their kids go to the same school.
And the mum managed to go in and out of the pub - The Hollywood Arms - without being spotted thanks to her brother-in-law Prince Harry.
The secret doorway in a rear alley is said to have been installed back when Prince Harry used to frequent the same venue in his bachelor days.
Despite being one of the most famous royals in the world, Kate is known to still lead a fairly normal life when she can.
Recently she was spotted at Norfolk's Sainsbury's (opens in new tab), buying Halloween outfits with Prince George and Princess Charlotte.
Mother-of-four Kathy Whittaker, 53, told Mail Online, "Another shopper said that Kate was in the shop near the clothing and pointed where she was to me. I just couldn't believe it!
"She was with Charlotte and George looking at Halloween outfits but her bodyguard was kind of watching people with phones and telling them no pictures.
"I didn't see what she actually bought. The lady that told me she was there had children with her and she said Kate was asking her children what they were going to be for Halloween.
"I think she bought some Halloween bits for her kids but I don't know what. It was so lovely to see her doing normal stuff that you and I do. It was so lovely to see her, she is always beautiful. You don't expect to see that when you go shopping! I couldn't concentrate on my shopping."