Royal fans left confused after spotting Kate Middleton's unusual quirk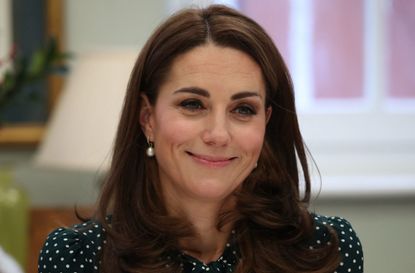 GoodTo newsletter
Sign up to the GoodTo Newsletter. You can unsubscribe at any time. For more information about how to do this, and how we hold your data, please see our privacy policy
Thank you for signing up to . You will receive a verification email shortly.
There was a problem. Please refresh the page and try again.
Kate Middleton usually looks flawless every time she steps out for a royal engagement, but now fans have spotted something very unusual she often wears…
The mum-of-three is photographed a lot every time she's out and about performing her official duties as a member of the royal family, and the first thing we usually see when we look at the pictures is her gorgeous outfits.
However, upon closer inspection, turns out the Duchess of Cambridge has been seen with something unusual quite a number of times – a plaster.
She was wearing one when she visited the woodland garden at Chelsea Flower Show (opens in new tab) that she helped design, and while a plaster is not unusual in itself, the frequency in which Kate sports them has led royal fans to notice the quirk and wonder why she wears them so often.
While Kensington Palace refused to comment (yes, someone asked), the theories are many.
READ MORE: Why Kate Middleton is being criticised for taking Princess Charlotte and Prince Louis on day out
Some have pointed out that gardening is one of Kate's hobbies, so she might often get cuts and grazes she needs to cover up.
She's also a mum of three, and we all know looking after little ones can make anyone prone to accidents.
Another theory is that Kate is getting her minor hand injuries in the kitchen. One said on Twitter: 'Why does Kate so often need a plaster on her fingers? My theory: she also grates her fingers when grating cheese. I am not alone!'
However, Kate could actually be doing herself a disservice by using a plaster on her wounds, according to Dr Anton Alexandroff.
The spokesman for the Consultant Dermatologist & British Skin Foundation told Express online: 'Wearing plasters isn't that helpful because the skin doesn't breathe as well and it takes longer to heal.
'As a mum, you are washing your hands all the time, so it is important to moisturise regularly. Using moisturiser is the best way to heal a scratch.'