Why Kate Middleton and Prince William will never be seen looking into the camera in public
The Duke and Duchess of Cambridge will never have this picture taken in public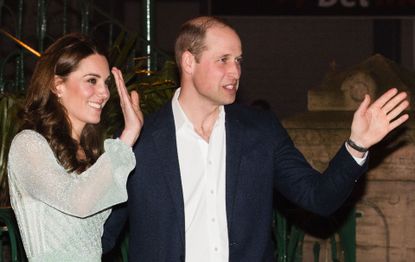 GoodTo newsletter
Sign up to the GoodTo Newsletter. You can unsubscribe at any time. For more information about how to do this, and how we hold your data, please see our privacy policy
Thank you for signing up to . You will receive a verification email shortly.
There was a problem. Please refresh the page and try again.
When Kate Middleton and Prince William are out and about in public you'll never see them looking into the camera for this reason...
As part of the royal family, Kate Middleton and Prince William are now well versed in how to deal with the hundreds of photographers that flock to their every outing.
Even their daughter Princess Charlotte has mastered the art of waving to the crowds and keeping the world's media hungry for her next adorable flick of the wrist.
But there is one picture of Kate and William, you'll never see… Or at least you'll find it very hard to track down as the couple make a conscious effort to avoid doing one thing.
And that's making direct eye contact with the paparazzi. According to Juliet Rieden, author of The Royals in Australia, who spoke to honey.nine: 'He doesn't court the media.
Read more: Why Princess Charlotte never wears trousers in public (opens in new tab)
'His focus is on meeting the people. He walks straight past the media, he will not stand and pose.'
Juliet continued: 'You will find that it is very difficult to get a picture of William and Catherine looking straight at the camera because it is not something they naturally do.'
The same is true for William's brother Prince Harry and his wife Meghan Markle.
Meghan and Harry during their recent visiti to Morocco
According to honey.nine reporter Natalie Oliveri, when Harry and Meghan were in Australia for their first official royal tour together, they pretty much ignored the enthusiastic press pack who were waiting for them.
Read more: Meghan Markle seems to have very exciting maternity leave plans ahead (opens in new tab)
Natalie said: 'We follow them every step of the way, attend every engagement and bring light to issues they champion.
'Yet at all the events, the couple do not look at the media. They pass by, pretending we're not there.'
Although the royals are happy to talk to members of the press to draw attention to important causes, it's thought they don't like to encourage the paparazzi because they resent the harassment Princess Diana was subjected to.