Why Kate Middleton and Prince William might get in trouble because of the royal wedding
Uh oh...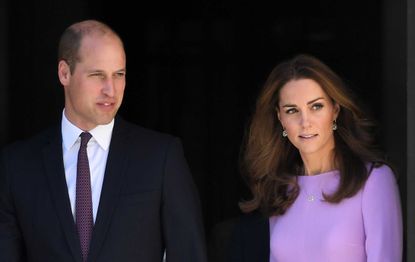 It's the second royal wedding of the year but this time Kate and William could have landed themselves in some hot water…
Kate and William will be at their third wedding of the year later today but Princess Eugenie's wedding could have got them in a little bit of trouble.
Unlike Prince Harry and Meghan Markle's wedding, which was on a Saturday, Princess Eugenie and Jack Brooksbank are tying the knot on a Friday.
This means that little Prince George is skipping a day of school at Thomas' Battersea and people are wondering if Kate and William had to go through the same measures that other parents are faced with…
One person tweeted: 'Wonder if Prince George has authorised leave from school today? #RoyalWedding'.
Prince George and Princess Charlotte (opens in new tab) were confirmed as part of Eugenie and Jack's pageboy and bridesmaid party on Wednesday.
Another pupil from Thomas' Battersea skipping school is five-year-old Maud Windsor, Prince George's school friend and Princess Eugenie's goddaughter, who is joining Princess Charlotte as a bridesmaid.
However, it's unlikely Kate and William or Maud's parents, Frederick Windsor and Sophie Winkleman, will face a fine as private schools are exempt.
According to Money Saving Expert: 'If your child is at an English state school (private schools are exempt) and aged 5-16, you're unlikely to get permission for a term-time holiday.'
This is Prince George and Princess Charlotte's fourth time performing their special roles and we can't wait to see their adorable little outfits.
Poor little Prince Louis, Kate and William's youngest child who was born in April, is likely to skip Eugenie's wedding just as he did Prince Harry's.
Prince Louis has missed several big family events this year but hopefully we'll get a glimpse of him in the Cambridges' Christmas card...
Will you be tuning into the second royal wedding of the year? Head over to our Facebook page to let us know about any parties and celebrations you are hosting!
Jessica currently works as a Senior Food Writer at Future. She writes food and drink-related news stories and features, curates product pages, tests, and reviews equipment, and also develops recipes that she styles on food shoots. An enthusiastic, self-taught cook Jess adores eating out and sharing great food and drink with friends and family. She has completed the Level 1 Associate course at the Academy of Cheese and is continually building on her knowledge of beers, wines, and spirits.