Katie Price comes under fire for dressing 11-year-old daughter in Playboy t-shirt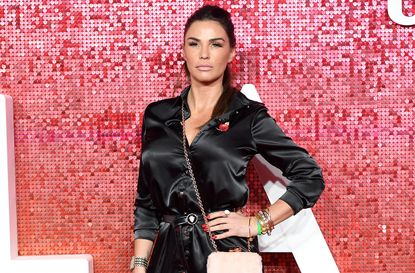 (Image credit: Getty)
Katie Price has come under fire for dressing daughter Princess in a Playboy t-shirt.
The TV personality has been slammed by social media users after uploading a video of her 11-year-old daughter wearing a Playboy t-shirt.
The mum-of-five took to Instagram to share a video with her two million followers that shows off the 11-year-old's singing talents.
Princess, who Katie shares with ex-husband Peter Andre, is showing off her singing skills with a rendition of Stefflon Don's chart hit Hurtin' Me, with older brother Harvey (opens in new tab) on his tablet in the background.
'Classic ❤❤❤' Katie captioned the video, alongside a series of musical clef and laughing emojis.
However, rather than focussing on the child's musical skills, social media were distracted by the fact that the 11-year-old was dressed in long Playboy t-shirt that features a provocatively dressed model on the front.
And many were very unimpressed by it.
'Am I then only one thinking 'why does your young daughter have a playboy t-shirt on?' x', commented one Instagram user.
'Nope thinking the same,' replied one critic, 'and don't think she should have it on X'.
'She's growing up so pretty. Shame u have her in a play boy t shirt tho!' echoed another.
Read more: Katie Price slammed for posting 'inappropriate' photo of her daughters on Instagram
Others agreed writing: 'Why's a child wearing a playboy T-shirt' and 'She shouldn't have play boy top on other than that good voice. X'.
However, many fans defended the 41-year-old, writing: 'Rather see her dressed in an oversized playboy top that's clearly her mums, than be dressed in next to nothing like most young girls these days who are about 12 years old but try and look 18'.
'You can obviously see it's her mums!!!' added another. 'She probably wears it to chill in, who doesn't love a comfy oversized T-shirt'.
Another commented: 'All these people moaning about a t shirt I'm sure she's seen some of her mums photos! I mean come on isn't like she's not been brought up with that sort of thing. Let her be. Her kids her choice.'
Do you feel that it's an inappropriate outfit? Or is it acceptable to wear if a child is just at home? Head over to our Facebook page to share your thoughts.
Aleesha Badkar is a lifestyle writer who specialises in health, beauty - and the royals. After completing her MA in Magazine Journalism at the City, the University of London in 2017, she interned at Women's Health, Stylist, and Harper's Bazaar, creating features and news pieces on health, beauty, and fitness, wellbeing, and food. She loves to practice what she preaches in her everyday life with copious amounts of herbal tea, Pilates, and hyaluronic acid.