'Absolutely disgusting' Katie Price slams Christmas jumpers making fun of son Harvey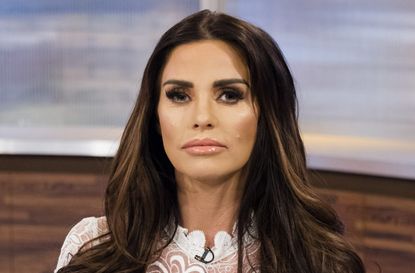 GoodTo newsletter
Sign up to the GoodTo Newsletter. You can unsubscribe at any time. For more information about how to do this, and how we hold your data, please see our privacy policy
Thank you for signing up to . You will receive a verification email shortly.
There was a problem. Please refresh the page and try again.
Katie Price has criticised people wearing Christmas jumpers that make fun of her son Harvey, who suffers from the genetic disorder Prader-Willi syndrome.
The jumpers were being sold on eBay, and feature a picture of Harvey with the caption 'Ho Ho Hello You C**ts' - something Harvey said while on Loose Women earlier this year.
Katie found out about the products after a video of a man wearing it went viral, in which his girlfriend tells him to take it off.
Sharing a link to the video, Katie said: 'Why do people continue to mock my son. If these people met Harvey they would feel disgusted!'
She also told The Sun: 'We think it's absolutely disgusting.'
The tweet struck a chord with many people, who agreed with the mum's criticism of the festive jumpers.
Hollyoaks star Tamara Wall wrote: 'This is truly disgusting !! I pray their own children don't ever get mocked in this way. Sending love to beautiful Harvey!'
A second user wrote: 'I think this is appalling. I don't know what's worse.... the person who chose to wear it or the person who chose to create it in the first place! I know it's not easy but try to ignore it.... Harvey is more of a human being than these idiots will ever be.....'
A third said: 'Why on earth are these pepole who are making this stuff getting away with it ???? And selling it ! Why is wrong with pepole it's disgusting! And shame on all those who buy the products !!'
Another added: 'This is absolutely disgusting! When will people just leave the poor kid alone, to just live his life in peace??!! as a mum, I'd b absolutely devastated if i had to deal with my son being abused like this daily stay strong @KatiePrice give Harvey a big hug from me & my kids.'
Most jumpers available online have since been taken down.