Most children get bored with new toys in just 36 days
The Easter Toy Amnesty sounds like a great way to do some good while clearing out clutter…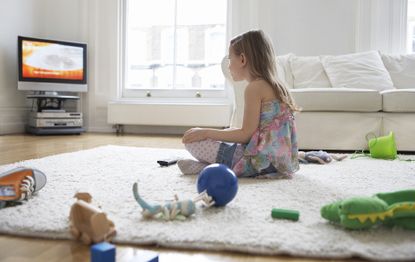 (Image credit: Jenny Norquist/Mood Board/REX/Sh)
The British Heart Foundation's Easter Toy Amnesty sounds like a great way to do some good while clearing out clutter...
If you have kids, you'll know how short their attention spans can be, and how quickly even the toys they've begged and pleaded with you for can be forgotten.
According to a new survey by the British Heart Foundation, the average child loses interest in a new toy in just 36 days. And one in five kids will get bored of the latest 'must-have' after less than a day.
Shockingly, eight per cent of the time new playthings are abandoned in less than an hour. And the average child has four toys they've never played with at all! That could add up to an incredible 162 million unused toys, the charity estimates.
This has resulted in over a quarter of UK parents tossing out toys that are still in perfect working order.
And while decluttering has its benefits, sending all that plastic to landfill isn't going to do the environment any good.
So just in time for the Easter break, the British Heart Foundation is calling an Easter Toy Amnesty on your kids' unloved and pre-loved toys.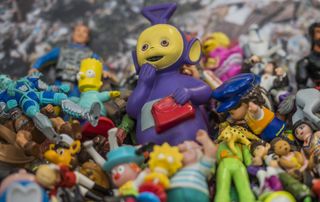 'As a parent I know how easy it can be for toys to end up piled everywhere – with some not played with for months!' said the charity's Retail Director Allison Swaine-Hughes. 'The British Heart Foundation Toy Amnesty is here to help clear out those toys that are ready for a new home and a whole new set of adventures.
'We're appealing to parents across Britain to stop tripping over those pieces of Lego and call our dedicate team of toy collectors.
Top kids' toys for 2019: The toys your little one will be asking for this year
From teddies to train sets, Transformers to Polly Pocket, all toys are welcome, and nothing's too big – or too small – to donate.
Brilliantly, you won't even have to lug them into your local shop. Just call or book online to schedule a free collection. Yep, until Friday, a nationwide fleet of van drivers will be 'poised to swoop in and collect toys big and small'.
And every item sold will help the BHF to raise funds for their life-saving heart research. That's what we call a win-win.
Parenting advice, hot topics, best buys and family finance tips delivered straight to your inbox.
Samantha is a freelance writer at Goodto who has been with team since 2019. Initially trained in psychology, she specialises in health and wellbeing and has additionally written for magazines such as Women's Health, Health & Wellbeing, Top Santé, Healthy, Refinery29, Cosmopolitan, Yahoo, CelebsNow, Good Housekeeping and Woman&Home.