Krysten Ritter expecting her first child with boyfriend Adam Granduciel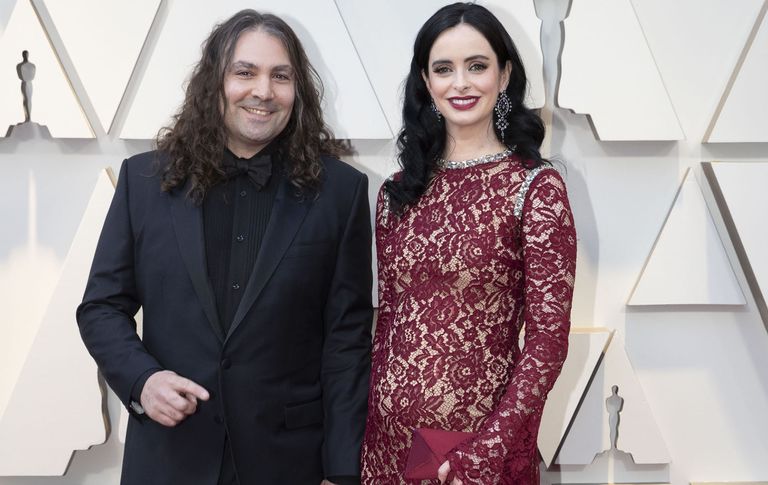 (Image credit: Getty)
Krysten Ritter is expecting her first child with boyfriend Adam Granduciel.
The Jessica Jones star took to social media to confirm the exciting news, after debuting her growing baby bump on the red carpet at last night's 91st Annual Academy Awards ceremony in Hollywood.
The Veronica Mars actress shared side-by-side photos of her side profile on her Instagram page that show the mum-to-be proudly displaying her blossoming bump on yesterday evening's red carpet.
She simply captioned the post 'Surprise!!! #oscars❤'
The post received over 200,000 likes in just a few hours and shocked fans and followers expressed their surprise in the Gilmore Girls actress's comments section, congratulating the expectant mum on her exciting news.
'OHMIGOODNESS CONGRATULATIONS!!!' wrote one shocked fan. 'You're going to be the coolest mom ever!!'
'Shocking to say the least!' added another. 'Congrats!!'
Read more: House of Cards star reveals pregnancy at Oscars party
'You know how to make an announcement! Congrats!', 'Congrats to you! I wish you the very best' and 'CONGRATULATIONS QUEEENNN' commented other enthusiastic followers.
Many were charmed by the Oscars presenter's red carpet look, writing: 'Congrats and you look fabulous', 'Omg congratulations! ❤ And you look lovely!' and 'Congratulations!!!! Beautiful dress and beautiful you!!'.
Several even discussed how the news will affect Krysten's pet Dog Mikey, with one writing: 'Mike's gonna be a big brother!! ❤'
The actress attended last night's Oscars ceremony to present the awards for Best Live Action Short Film and Best Animated Short Film.
She also gave fans a glimpse into the exclusive ceremony when she posted an exciting Oscars selfie to Instagram.
This will be the first baby for the 37-year-old, who has been in a relationship with American musician Adam Granduciel since August 2014.
The 40-year-old accompanied his pregnant girlfriend on the red carpet last night as the pair revealed their news to the world.
Congratulations to Krysten and Adam on their exciting news! We bet they can't wait to meet their little one!
Aleesha Badkar is a lifestyle writer who specialises in health, beauty - and the royals. After completing her MA in Magazine Journalism at the City, the University of London in 2017, she interned at Women's Health, Stylist, and Harper's Bazaar, creating features and news pieces on health, beauty, and fitness, wellbeing, and food. She loves to practice what she preaches in her everyday life with copious amounts of herbal tea, Pilates, and hyaluronic acid.