Lacey Turner welcomes first child with husband Matt Kay after two 'heartbreaking' miscarriages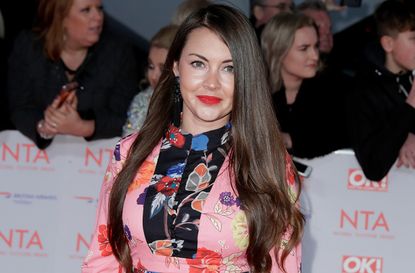 (Image credit: Getty Images)
Lacey Turner has welcomed her first child with husband Matt Kay.
The Eastenders star has welcomed her first child with husband Matt Kay, announcing the exciting news to OK! magazine (opens in new tab).
The 31-year-old, who announced her pregnancy back in February, gave birth to a baby girl on Friday 12th July.
The new parents are said to be overjoyed at the birth of their first child together, but the couple have not yet released any details about what baby name they will be giving their little bundle of joy.
Back when she announced her pregnancy towards the start of the year, Lacey opened up about her feelings on motherhood, telling OK! magazine: 'I can't wait to nurture our baby – we've dreamed of having a family for so long.'
Though this is only Lacey's first child, this is actually her third pregnancy, as she has previously revealed that she tragically suffered from two miscarriages (opens in new tab).
Opening up about her two miscarriages to This Morning's Phillip and Holly on the popular ITV daytime show, Lacey said: 'It was heartbreaking – my whole world crumbled. I couldn't understand it. I didn't know anybody who had been through anything like this.
'It's a really confusing time,' she continued. 'I thought, 'What did I do?' You sort of think, 'Was my steak not cooked properly? Did I lift the box?' You drive yourself insane about all these things you might have done.'
Over a year after losing her second baby, Lacey fell pregnant for the third time, admitting: 'I sort of ignored it until I was 10 weeks and didn't want to be excited.'
The soap star went on to explain that she had another miscarriage scare during her current pregnancy, when she began to have cramping and bleeding.
'I just sat on the couch and cried,' she told Holly and Phillip. 'And I thought, I'll just see the scan man tomorrow and we can just confirm that it isn't living anymore. And I went and it was. It had a heartbeat.'
The new mum was told that her progesterone had dropped and was given pessaries to bring her hormone levels back up, saying that she thought that this treatment was what stopped her from suffering a third miscarriage.
'There was nothing wrong with my progesterone two days before,' she said. 'This is what I believe saved our baby, but not everybody will prescribe it for everyone suffering from miscarriages.'
Congratulations to Lacey and Matt on the new arrival!
Aleesha Badkar is a lifestyle writer who specialises in health, beauty - and the royals. After completing her MA in Magazine Journalism at the City, the University of London in 2017, she interned at Women's Health, Stylist, and Harper's Bazaar, creating features and news pieces on health, beauty, and fitness, wellbeing, and food. She loves to practice what she preaches in her everyday life with copious amounts of herbal tea, Pilates, and hyaluronic acid.