Gavin and Stacey star Mathew Horne engaged to girlfriend Evelyn Hoskins
This is such lovely news!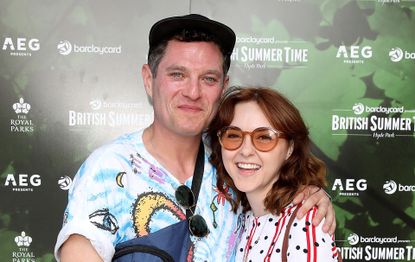 (Image credit: Tim P. Whitby / Stringer/Getty Images)
Mathew Horne has confirmed his engagement to fellow actor Evelyn Hoskins, just months after wedding rumours started circulating about the celeb pair.
Casualty star Evelyn subtly broke the news via her Instagram account, showing off her unique gold engagement ring and captioning a loved up snap of the adorable couple with the words: 'I cannot wait to call this man my husband.'
Among the celebrities who were quick to offer their congratulations by responding to the post were former Eastenders and Strictly Come Dancing star Kara Tointon, writing: 'Oh my god!!! I'm sooooo happy…Sending so much love.'
In subsequent posts, Evelyn reveals that she has already started dress shopping, suggesting the pair's big day could be very close.
The post read: 'Dress shopping with my Bridesmaids @rosscarpenteruk & @jamesminihane'
And just to make sure that everyone got the memo about the couple becoming official, the 30-year-old recently tweeted: 'I still haven't fangirled publicly about my amazing fiancé @mfhorne and his performance in Rain Man. It's pretty special. Ed's alright too. Shame he's so ugly. And @JonathanOBoyle's done an okay job. It's touring now and I urge you to go see it if you can!'
While Mathew has remained pretty quiet about the news of his upcoming nuptials, he tweeted the following response to post by another user, tagging his soon-to-be wife.
'Agreed. At our wedding. @EvelynHoskins', he said.
It's not clear exactly how long the couple have been dating, but social media posts show that it has been at least a few months.
Fans of the star begun to speculate that Mathew was off the market after he was pictured sporting a gold wedding band during a This Morning appearance.
The 40-year-old – best known for his roles on shows including Gavin and Stacey and The Catherine Tate show – is famously private about his personal life.
However, the star did open up about his relationship past in 2009 Guardian interview, saying: 'I had my first girlfriend at 15. That relationship absolutely shaped me as a person. We fell in love and it was incredibly intense.'
He continued: 'It definitely was love, but it became infatuation and quickly became very destructive and completely ruined us both emotionally. We were about 18 when it ended. It still runs deep to this day - I think it's the intensity of feelings you have at that age.'
He also revealed he takes his relationships seriously adding: 'I'm a serial monogamist, absolutely. I don't really do that one-night stand thing; it's very unnatural to me.'
Freelance Lifestyle Writer
Miriam Habtesellasie is a freelance lifestyle writer who has contributed content to GoodTo, Woman&Home, Women and Idealhome.co.uk. Miriam is based in London and is a fan of everything interiors, she admits to being spoilt for choice living in the capital. From stunning architecture right the way through to eye-catching department store window displays, she believes there's always an angle to be found that can translate to our abodes.