These are the most likely names for Meghan and Harry's first child
Which name gets your vote?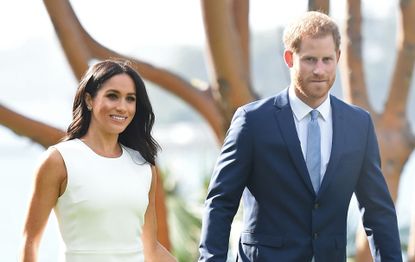 (Image credit: Pool/Samir Hussein/Contributor/Getty Images)
The Duke and Duchess of Sussex announced they are expecting their first baby earlier this month - but which baby name will they pick?
Bookmakers have already placed their bets on the adorable baby names (opens in new tab) Harry and Meghan are most likely to choose for their bundle of joy.
Topping the list according to private bookmakers Fitzdares is Alexander (2/1) for a boy and Alice (5/2) for a girl.
The name Alexander may be a tribute to Prince Philip's grandfather, Prince Louis Alexander of Battenberg, and cousin Prince George already has Alexander as one of his middle names.
The name Alice can be also be found by looking further back in the royal lineage.
Princess Alice was the third child of Queen Victoria and Prince Albert. Queen Elizabeth II and her husband Prince Philip are both great-great-grandchildren of Queen Victoria.
Other boys names that are potentially in the running are:
Arthur (3/1)
Philip (6/1)
Albert (6/1)
Nicholas (10/1)
Alfred (33/1)
James (50/1)
Thomas (100/1)
And for a girl the list continues as follows:
Victoria (4/1)
Mary (4/1)
Isabella (6/1)
Eleanor (12/1)
Augusta (12/1)
Rachel (25/1)
Diana (50/1)
Over at betting firm Ladbrokes, the front-runners are currently Albert (10/1) for a boy and Victoria (8/1) for a girl.
The list of predicted boys names continues as follows:
Phillip (10/1)
Alfred (16/1)
Charles (16/1)
James (16/1)
Alexander (20/1)
Edward (20/1)
William (20/1)
Bar (25/1)
While the list of predicted girls continues with sweet nod to the baby's late grandmother:
Diana (12/1)
Alice (12/1)
Elizabeth (16/1)
Mary (16/1)
Alexandria (20/1)
On the ranking, Katie Baylis of Betfair said: 'At this stage Diana, Arthur and Alice, which was favourite at different stages for Kate and William's babies, are the 12/1 front runners.
'However, with months until the baby is born, those odds will shorten, change and other names will come to the forefront, so watch this space.'
Which is your favourite name baby name from the list? And do you think Harry and Meghan should choose a name that pays tribute to one of the royals? Join the conversation on our Facebook page!
Freelance Lifestyle Writer
Miriam Habtesellasie is a freelance lifestyle writer who has contributed content to GoodTo, Woman&Home, Women and Idealhome.co.uk. Miriam is based in London and is a fan of everything interiors, she admits to being spoilt for choice living in the capital. From stunning architecture right the way through to eye-catching department store window displays, she believes there's always an angle to be found that can translate to our abodes.