Mum warns parents about the dangers of long hair after son nearly lost his toe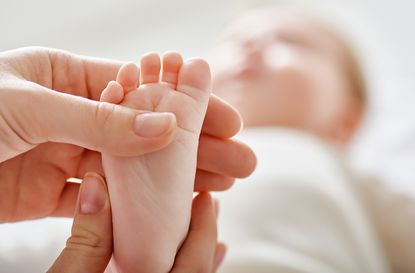 (Image credit: Getty)
A concerned mum has taken to Facebook to share a warning against long hair after her son nearly lost his toe.
Sharing her story on Facebook group The Motherload (opens in new tab), Kim Potter shared a series of photos that show how her baby son's toe swelled up and changed colour after one of her long hairs got tangled around it.
The worried mum confessed that she felt guilty for not noticing the subtle danger, where her long hair was wrapped so tightly around the baby's toe that it nearly cut his skin.
As a result of the incident, the baby developed tourniquet syndrome, which affects babies when hair becomes tied around their toes, fingers or tongue.
Read more: Mum's warning after toddler tragically suffocates underneath teddy bear
'In two minds if to post this or not, feeling very bad right now but I want to make others aware,' she wrote on her Facebook post.
'When getting my little boy dressed this morning I noticed his toe was very swollen, when looking closer I found he had one of my hairs wrapped around his toe, that tight it had cut his skin.
'I couldn't get to it myself so went straight to the hospital,' she continued, 'where two nurses checked him over and said nothing is there now it must have come away... all day checking his toe best I could because I wasn't happy how it was still swelling.'
'Of course mummy knows best and I was convinced there was a hair still there.
'So through him screaming at me I managed to get the tweezers and sure enough there it was.
She added: 'If I hadn't of trusted my instincts I would have put him to bed tonight and tomorrow would have been a whole different story!
'Just be extra vigilant with your babas, who could have thought a single strand of hair could have lost my baby's toe!'
Other supportive mums commented on the post, encouraging the guilty mother, with one writing: 'This is more common than people realise and has happened to a few people I know personally. Thank goodness your boy is OK.'
Aleesha Badkar is a lifestyle writer who specialises in health, beauty - and the royals. After completing her MA in Magazine Journalism at the City, the University of London in 2017, she interned at Women's Health, Stylist, and Harper's Bazaar, creating features and news pieces on health, beauty, and fitness, wellbeing, and food. She loves to practice what she preaches in her everyday life with copious amounts of herbal tea, Pilates, and hyaluronic acid.