Mum warns about dangers of playground swing after son suffers shocking head injury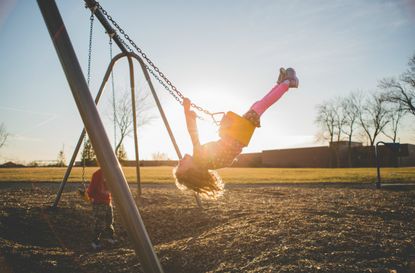 Rebecca Jordan took to Facebook to share a worrying image of her son's head after he spent too long playing on a playground swing.
The concerned mum shared a Facebook post, that has now gone viral, of her son's head and eyes after he spent too long spinning on a swing.
Rebecca's son was playing outside (opens in new tab) with other children on a dream catcher swing - a saucer-shaped swing, used to spin in circles.
Rebecca's son passed out after coming off the swing and complained his 'brain hurt'.
On further inspection the whole of the top of his head had turned red in colour and looked as if it had been burned or bruised.
Rebecca explains in her Facebook post, that after a trip to the emergency services, doctors revealed blood had pooled in her son's head and blood vessels in his eyes had 'burst from the extreme pressure'.
In her post she said: 'Just so parents are aware of what could happen when your child spins way too fast for way too long on a swing with their head leaned back/hanging off.'
https://www.facebook.com/rebecca.jordan.186/posts/2251476614937696
She continued: 'Our son loves to spin around, he's a bit of a thrill seeker (you know how boys can be). Yesterday he was playing with a group of other kids outside running around the yard and on the playground equipment. He got on the swing and told the other kids to spin him around (like he does a lot), you know the famous line, "faster, higher, spin me faster". (Except this time, he held his head out the entire time and he let it go too long. Who knew?) 🤷♀️
'As he spun faster and faster with his head back, the centrifugal force/pressure forced blood to rush to the top of his head causing blood to immediate pool/bruise, (which looked like his head was spray painted or burned). Plus the blood vessels in his eyes and eye lids burst from the extreme pressure. They stopped him and as he got off the swing he collapsed (possible passed out for a few minutes).
'Several kids came inside with him to tell us what happened and he said he had trouble breathing and his "brain hurt". We started checking him out and started noticing what all was wrong. We were concerned about possible brain injury so we went to the ER. Keep in mind he never actually hit his head, this was only from the centrifugal force pulling while spinning on the swing. (Simillar tramatic brain injuries occur from shaking baby syndrome)
'The doctors and nurses were puzzled and thought he spray painted his head because they have not seen this type of presentation of blood bruising before. They were very quick to examine his head, eyes and inner ears and sent him for a C.T.
'Praise God it came back normal, no internal injuries or brain swelling. But seriously, we will be very cautious about spinning excessively from now on. So, not trying to cause fear or say stop letting your kids spin and have fun, but just food for thought to be careful of excessive spinning under these circumstances.'
The force and motion of the swing had caused blood to pool in Rebecca's son's head that left him with a bruised head, and burst vessels in his eyes and eyelids.
Fortunately, her son was discharged after several head scans found no internal injury or injury to his brain, and he is now doing well.
Sarah Combs, a paediatric emergency room physician at Children's National in Washington D.C, told Romper: 'If severe enough, this can cause bleeding around and/or within the brain itself. It also may lead to concussion, which I often conceptualize for my patients' parents as a 'brain bruise' that needs time to heal'.
Sarah also warned that this same injury could be caused by other playground activities like merry-go-rounds and traditional swings.
For parents, safety concerns are always a worry when it comes to children playing outside. One mum has previously warned of an incident that occurred which caused her daughter to fracture her leg while on a playground slide.
And, similarly another mum issued a warning to other parents with shocking pictures after her daughter got second-degree burns from playing on a slide.
To avoid any accidents, make sure your child is always supervised while on playground equipment.
We all want our children to enjoy the nice weather and play outside, so implementing some safety measures for play in the garden, playground or park will help our little ones avoid injury.
Sibelle Mehmet is a Junior Digital Writer at Goodto.com. She joined the team in April 2019 and was her first job since completing a MA in Magazine Journalism at City, the University of London in the summer of 2019. Sibelle previously interned at a number of national titles including OK!, Heat, Closer, Mother & Baby, and The Times Newspaper magazine. She's written extensively about the latest celebrity, showbiz, and royal news.