New study reveals parents' biggest fear for their children - can you relate?
Three-quarters of us are worried about this issue, according to new research…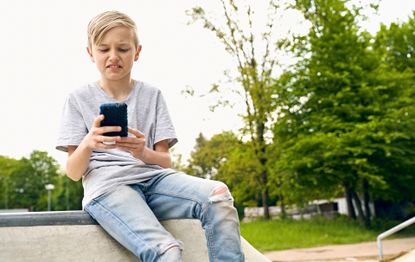 (Image credit: REX/Shutterstock)
Three-quarters of us are worried about this issue, according to new research…
From Twitter trolls to gaming addictions, as any parent will tell you, there's plenty to worry about when it comes to your child going online.
But now AgeChecked, an online age verification organisation, has surveyed 1,500 UK parents to find out what their biggest fears are. So what came out on top?
Three-quarters of the parents in the study said they were worried about their underage children accessing or stumbling across pornography online, making porn the most pressing concern for UK parents.
Read more: A parental guide to helping your kids stay safe online (opens in new tab)
Last month, Phillip Schofield and Holly Willoughby interviewed Sarah-Louise Pritchard and Jane Chelliah from Channel 4 reality show Mums Make Porn on This Morning. Echoing many parents' fears, the mums admitted that they were shocked by the violent and disturbing pornographic content freely available for children and teenagers to access online.
Worryingly, a recent report by the NSPCC suggested that porn was causing confusion over what counts as 'normal' intimate activity amongst young people, and that this was leading to a rise in peer sexual abuse.
The new Digital Economy Act, which is due to come into effect this month, has a 'porn ban' clause which will require adult websites to check the age of everyone who accesses them. However, AgeChecked have warned that young people may still be exposed to adult advertising on social media platforms.
Most 10-year-olds have used social media, even though the minimum age to open a Facebook, Twitter, Instagram or Snapchat account is 13. Unsurprisingly, most parents think that online age restriction measures are ineffective.
'Although parents have a responsibility to protect their children, it's almost impossible to constantly monitor exactly what they are doing online,' said Alastair Graham, AgeChecked's CEO. 'The onus is therefore also on the adult industry to help safeguard young people – who can be too-easily warped by what they see on the internet.'
51 per cent of parents also admitted that they were worried about their children accessing online gambling platforms, while 40 per cent were concerned about them using online shopping sites that sell items like alcohol or knives.
Samantha is a freelance writer at Goodto who has been with team since 2019. Initially trained in psychology, she specialises in health and wellbeing and has additionally written for magazines such as Women's Health, Health & Wellbeing, Top Santé, Healthy, Refinery29, Cosmopolitan, Yahoo, CelebsNow, Good Housekeeping and Woman&Home.