Pippa Middleton welcomes first child with husband James Matthews
This is so lovely!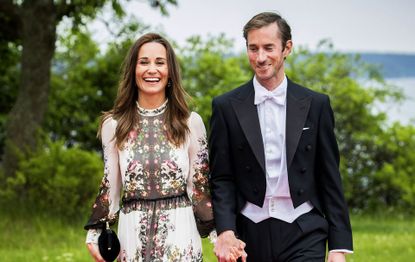 (Image credit: IBL/REX/Shutterstock)
Pippa Middleton has welcomed her first child with husband James Matthews.
The exciting news was revealed on Twitter by royal reporter Rebecca English, who announced the couple welcomed a little boy yesterday.
She tweeted: 'George, Charlotte and Louis have a new cousin! James and Pippa Matthews (Middleton) have had a baby boy. He was born Monday 15th October at 1.58pm, weighing 8lb and 9oz. Everyone is delighted and Mother and baby are doing well.'
The world will eagerly be awaiting news of the baby's name, and if Pippa and her husband are to follow in the footsteps of the royals they may wait as long as a week to confirm either.
Just a few hours before the announcement, Pippa's husband was spotted carrying a £78 Cam Cam Copenhagen baby changing bag and a £37 Nobodinoz Loz Angeles weekend bag into the £7,500-a-night maternity unit.
The weekend bag is sure to contain the new mum's post-baby outfit as well as an adorable get up for new baby.
Kate's sister confirmed she was expecting her first child in June (opens in new tab), in her column for Waitrose magazine, weeks after rumours that she was pregnant started.
She wrote at the time: 'I was lucky to pass the 12-week scan without suffering from morning sickness. This being my first pregnancy, I had so many questions I felt were still unanswered.
'I wanted to know things like — would I strain if I served in tennis? Are all strokes of swimming safe? Can I still do a normal yoga class if I avoided certain positions? Could I still work my abs?
'It's particularly hard in the early months when you don't really want to share the news with everyone, not even your class instructor. I've noticed my body change and weight increase — but through effective exercise and sports I feel that it's being strengthened to support a healthy pregnancy, birth and recovery.'
She also recently took to her column to open up about her last month of pregnancy, revealing that changes to her body have left her feeling 'uncomfortable and achy'.
The happy news comes just days after it was confirmed that Meghan is expecting her first child with husband Prince Harry in spring 2019.
Congratulations to both Pippa and James!
Freelance Lifestyle Writer
Miriam Habtesellasie is a freelance lifestyle writer who has contributed content to GoodTo, Woman&Home, Women and Idealhome.co.uk. Miriam is based in London and is a fan of everything interiors, she admits to being spoilt for choice living in the capital. From stunning architecture right the way through to eye-catching department store window displays, she believes there's always an angle to be found that can translate to our abodes.