Poundland customers aren't happy about the shop's misspelt birthday banners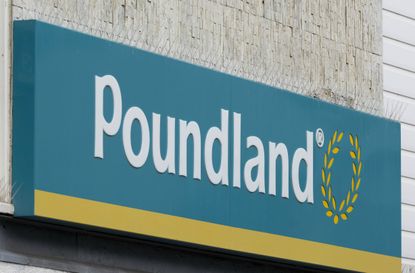 GoodTo newsletter
Sign up to the GoodTo Newsletter. You can unsubscribe at any time. For more information about how to do this, and how we hold your data, please see our privacy policy
Thank you for signing up to . You will receive a verification email shortly.
There was a problem. Please refresh the page and try again.
Budget supermarket Poundland's birthday banners are full of hilarious spelling mistakes leaving shoppers confused.
A birthday banner is a staple item at any birthday celebration (opens in new tab).
Though, shoppers have been left confused, amused and disappointed after a whole collection of Poundland's party banners were full of spelling errors.
The budget-supermarket has been ridiculed for their latest misspelled banners and inundated with complaints after shoppers got a surprise when they went to hang their celebratory decorations.
Bargain shoppers found their £1 'Happy Birthday' banners had letters missing, others discovered additional letters, and some had all the letters in the wrong order.
Shoppers have taken to social media to share Poundland's bunting blunders.
One shopper tweeted a snap of her blue banner reading: 'HPAPY BIBTHDAY'.
Another shopper found that theirs read 'HAPPY BIBTHDAY'.
The shopper wrote alongside her misspelt banner '@Poundland great 'happy bibthday 'banner we bought from one of your stores for my nephew's 1st birthday!.'
Another shopper found his banner read: 'HAPPY RTHDAY'.
He wrote alongside the picture: '@Poundland Little David's Birthday didn't quite go as planned with the expensive decorations I purchased. Apparently £1 doesn't buy you a B and an I. On the plus side I got an extra Y. But that's all I've been left asking myself... Y do this?!'
Another shopper joked: 'That moment when you realise exactly why that birthday banner from @poundland was such a bargain.'
Customers are being advised to return their banners to Poundland stores and ask for a refund.
This isn't the first time Poundland have run into trouble with their misspelt banners.
Poundland shoppers experienced the same problem during the Christmas period with banners reading 'MERRT CHRISTMAS'.
Though, Poundland seems to have found the funny side of their mistake.
In a statement, Poundland said: 'We think no one says Dappy Dirthday like Poundland.
'Yes, we've spotted the problem and spelt it out to our supplier.'
We don't think Poundland will be entering a spelling competition any time soon! Oops!