Royal fans are gushing over this untold story about Prince George, Kate Middleton and kangaroos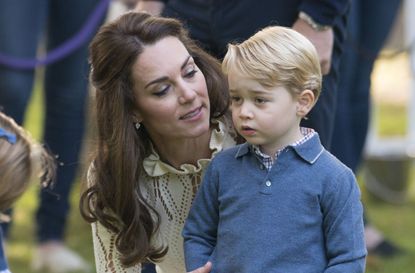 GoodTo newsletter
Sign up to the GoodTo Newsletter. You can unsubscribe at any time. For more information about how to do this, and how we hold your data, please see our privacy policy
Thank you for signing up to . You will receive a verification email shortly.
There was a problem. Please refresh the page and try again.
Prince George and Kate Middleton have had many sweet public moments together, but now fans are loving this untold story from their royal tour in Australia in 2014.
The story was first posted on a royal tumblr account, and resurfaced on a royal fan's Twitter account.
According to a source who reportedly worked at the place where Kate and William stayed at the time, Kate took some time before an official engagement to spend quality time with little George and show him the kangaroos that were hanging out outside.
It reads: 'My Mum knows someone who used to work at government house in Canberra. When Kate, William and George were staying there, Kate came running (well, probably elegantly gliding) down the stairs with her hair, make up and jewellery done for the ball but still in casual clothes.
'She asked how long until they had to be dressed, because there were some kangaroos outside and she wanted to take George out to see. They sat on the grass and watched the kangaroos until it was time for her to get dressed.'
A note at the bottom explains the source of the story: 'A This anecdote was shared by someone whose mum knows someone who used to work where William and Kate stayed with George during their 2014 tour in Australia.'
Princess Charlotte spotted out with Kate Middleton in very special mother-daughter date
Royal fans were loving the adorable story, with one saying: 'This is such a great story. Catherine is an amazing mom. I can totally see her doing this.'
Another wrote: 'That's a lovely story'.
This royal tour of New Zealand and Australia, which started in April 2014 and lasted for three weeks, was Prince George's first royal trip when he wasn't even a year old.
As well as his reported encounter with kangaroos, little George also met a bilby who was originally named Boy but was renamed after George when he was born.
At Taronga Zoo, in Sydney, the little prince made a move for the animal's ears but Kate and William managed to pull him back before he did any damage.