Kate Middleton and Prince William 'delighted' Prince George is making friends at school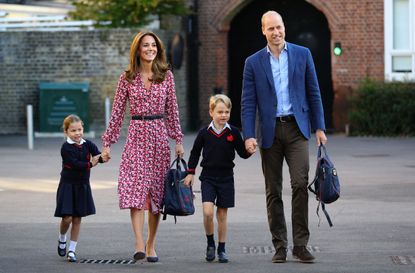 Prince George is doing well at school and making lots of friends, even inviting them for play dates at Kensington Palace according to reports.
Kate and William are said to be 'delighted' that their little boy is enjoying school like a 'normal child'.
This follows royal news that Princess Charlotte started at the same school as her brother.
This month has been very eventful for the Cambridges already, since two out of their brood of three started school in September.
While it was the first day for Princess Charlotte at Thomas's Battersea, Prince George returned for this third year at the school just a few weeks ago.
And it seems like the six-year-old is having a great time at the school, as new reports reveal he's had school friends over at Kensington Palace for play dates.
READ MORE: Kensington Palace confirms huge difference between Princess Charlotte and Prince George's first day at school (opens in new tab)
A royal insider told The Sun: 'Kate and William are delighted that George is getting on so well at school and that he's made friends.
'And just like any normal child, he has invited a few of his mates on play dates.
'It's just that most schoolkids don't go somewhere like Kensington Palace to see their friends out of lessons.' We bet the snacks were on point!
READ MORE: Prince George and Princess Charlotte's favourite summer holiday hangout revealed
Meanwhile sister Charlotte is said to be very excited to be joining big brother Prince George.
'She can't wait to be with George at big school,' an insider told PEOPLE before the little royal started at school. 'She is so excited about it all.'
'They are close in age, and they spend so much time together. Playdates [with outsiders] can be tricky, so they learn to lean on each other.'