Fans gush about adorable hidden moment between Prince Harry and Meghan Markle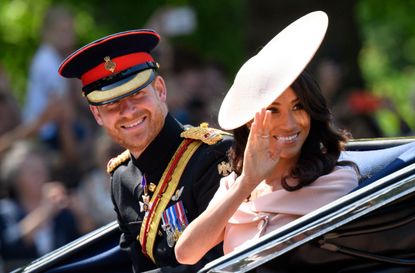 Prince Harry and Meghan Markle shared a very sweet moment during a royal event that we all missed – and fans are loving it!
Prince Harry and Meghan Markle have been married for little over a year, and recently welcomed their first bundle of joy.
But while we haven't seen Meghan in a few weeks – after the private photo call where they introduced baby Archie to the world – fans are loving an adorable moment the pair shared last year.
The Duchess of Sussex had her first Trooping of the Colour last year, just weeks after officially joining the royal family, so it's no wonder she needed a bit more guidance when it comes to official protocol.
Proving how Harry was there to guide her in this new world, fans have uncovered a video where he's adorably seen prompting Meghan when to curtsy upon his grandmother's official arrival.
As the Queen arrived, Meghan asked Harry under her breath, 'Do it?' To which he replied, 'Yes'.
The clip was shared on a fan account dedicated to the Sussexes, alongside the caption: 'WOW! Harry guiding Meghan.. Didnt notice it.
ICYMI: Meghan asks "Do it?" and Harry says "Yes" 😭♥️.'
RELATED: Could baby Archie be making an appearance very soon? (opens in new tab)
Fans were quick to gush about the adorable moment the then newlyweds shared, with one saying:' Harry is a sweetheart. He loves that Megan so much that he is helping her. Only someone that in love with the other person would do that.'
Another added: 'LOVE this! Harry waiting for just the right moment to answer, "yes." Its such a sweet, simple teaching moment. I love it!'
A third also wrote: 'Harry helping Meghan curtsy omg omg omg my heart.'
The couple are set to be at this year's Trooping of the Colour, standing on the balcony alongside the rest of the royal family.
Even though Meghan is officially on maternity leave, she's expected to still attend the event – just like Kate did after Louis' birth last year, and Charlotte's in 2015.