Regifting is the 2023 money-saving buzzword you need to know about
Because sharing is caring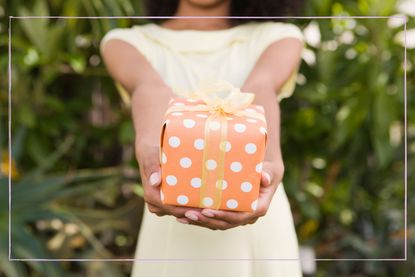 (Image credit: Future/Getty)
Regifting is good for the planet and good for the soul - additionally saving you some pennies whilst you're at it. Here's why you should make it a habit in 2023.
We'll be the first to admit that choosing the perfect present for someone can often carry a bit of pressure. Whether it's buying gifts for a new mum (opens in new tab), a baby shower gift (opens in new tab) to celebrate a new family member, or a simple birthday present for a friend or loved one - we can sometimes obsess over getting it right. Then there's the reality check of budget to adhere to, sometimes limiting our options further.
Step forward, regifting. Not exactly a new phenomenom - but one that's making a comeback in 2023. A recent TK Maxx survey (opens in new tab) found that 41% of people asked said they've regifted a present, with a further 19% having considered it - but as yet hadn't taken the leap.
Gone are the days of this being seen as insulting or inappropriate, with second-hand and sustainability giving re-gifting an image re-haul that makes total sense. As Goodto's consumer editor Heidi Scrimgeour (opens in new tab) puts it: "These days it's not about cheekily palming off unwanted items that you can't be bothered to sell - dare I say that's what charity shops are for.
"Far from being rude or cheap, it can be a lovely way to make gift-giving even more personal, as well as sustainable."
The Regifting resurgence - Recent statistics
"We're all about savvy gifting at TKMaxx which regifting definitely supports," says Emily Bown, Manager Of European Online Content at TK Maxx. "Not only is it an economical way to recycle something you don't need, in the survey we carried out '27% of people wanted to reduce waste' which links to the big environmental benefits regifting can offer."
Other factors making it into the Top 5 reasons we regift include surplus and personal preference. 37% already owned the gift or something similar, whilst 34% simply did not like the gift. Topping the list of reasons though was the mentality that someone else would make better use of it - showing that kindness and thoughtfulness are indeed the main drivers behind the practice.
Top 5 regifted items
Beauty or Personal care - 46%
Alcohol - 36%
Clothing or Accessories - 23%
Food - 22%
Fragrance or Aftershave - 18%
"These results don't actually surprise me, especially knowing a bit about how customers shop," says Emily Bown. "Fragrance and aftershave and clothing and accessories can definitely be quite a personal gift, so if it's not to your taste but you know someone else who will appreciate it - re-gifting is a no brainer.
"Much like those one-of-a-kind wardrobe pieces you find in our stores - regifting something that can't be purchased just anywhere also makes the present even more special. Because who doesn't love a gift with a story behind it?"
How to Regift: Advice from those in the know
When it comes to regifting there's an etiquette guide of sorts - on how to pull it off successfully, plus what tiny hiccups you'll want to avoid - as Goodto's Family Editor Stephanie Lowe (opens in new tab) will be the first to tell you.
"Let me set the scene for you. It's Christmas and my lovely friend texts to say she's popping round with a gift, I tear around the house looking for things I could pass off as gifts... I was not prepared for this...," she says.
"I find a bottle of unopened festive glittery gin, two cool twisted candles I'd received, but knew would never use, and an eco-cool brown paper bag. I quickly grabbed my kid's Christmas stamps and decorated it, with minutes to spare.
"I opened the door and she was holding a huge hamper with a beautiful bow. We exchange Christmas chat and I hand over my re-gifted piddly brown paper bag, and need both arms to take the hamper off her. The door closes... I tell my husband what just happened. Without looking up from his phone he casually says 'didn't that gin have a 2021 tag on it'".
Consumer Editor Heidi Scrimgeour similarly recalls a friend's regifting faux-pas: "A friend of mine once opened a Christmas gift only to find the original gift tag (addressed to the gift giver) tucked inside the item, obviously overlooked at the time of wrapping. It soured the relationship which was a high price to pay for regifting."
Best practice? "Either confess that you're regifting - there's no shame in that as long as it's a decent gift that the recipient will truly appreciate. Or cover your tracks carefully, making sure you remember who gave you the gift and avoiding, at all costs, any awkwardness or bad feeling," she adds.
"And if in any doubt about the origin of the item, never EVER regift it unless you inadvertently give it back to the recipient. That's a total no-no, unless you're deliberately trying to strike yourself off their Christmas card list."
Regifting: Rules to live by
DO remember who gave you the gift (and DON'T regift it back to them)
DO be honest when regifting - share the sentimental reason
DO rewrap and remove any previous gift tags and labels
DO check the expiry date
DO be thoughtful with it - will the intended recipient really like it?
DO regift in moderation (you don't want a reputation)
DON'T regift to friends or family who move in the same circle
DON'T see it as a last minute alternative
DON'T regift something homemade or meaningful
DON'T regift old tat - visit your local charity shop
Video of the Week
Emily Stedman is the Features Editor for GoodTo covering all things TV, entertainment, royal, lifestyle, health and wellbeing. Boasting an encyclopaedic knowledge on all things TV, celebrity and royals, career highlights include working at HELLO! Magazine and as a royal researcher to Diana biographer Andrew Morton on his book Meghan: A Hollywood Princess. In her spare time, Emily can be found eating her way around London, swimming at her local Lido or curled up on the sofa binging the next best Netflix show.