Romeo Beckham posts adorable picture with little sister Harper
'Best sister ever'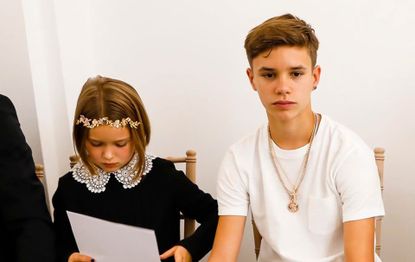 Romeo Beckham took to Instagram to gush about his little sister Harper and fans are loving it!
Romeo Beckham is the second oldest of Victoria and David's children and he likes to keep his 1.8million Instagram followers happy.
Regularly sharing snaps from his life of luxury, some of Romeo's most popular posts are those with his family.
After several selfies Romeo finally gave the people what they want and shared a sweet picture of himself and his siblings with a simple love heart in the caption.
While this post quickly racked up an impressive 185,000 likes, it was Romeo's tribute to his little sister Harper that really sent fans into a fluster.
The adorable picture, showing Harper with some cute little bunches as she grows out her drastic bob, has the caption: 'Best sister ever'.
Buy a magazine subscription and enjoy a M&S or Tesco e-gift card (opens in new tab)
Aspiring tennis player Romeo is sporting a backwards cap, navy patterned swimming shorts and a gold pendant and has his arm draped over his sister's shoulder.
Mum Victoria has liked the post alongside over 240,000 other followers and fans.
One person wrote: 'I just love how you kids love your sister 💕💕💕💕'.
Another said: 'Cuties 😭💕'.
A third added: 'Too cute 😘'.
Some people also joked that it's easy for Harper to be the best sister when she's the only one in the Beckham clan!
Read more: David Beckham reveals marriage to Victoria is 'complicated' and 'hard work'
Thankfully, this was the only marginally controversial aspect about Romeo's picture, unlike dad David's picture with Harper from a few weeks ago that sparked huge debate.
The innocent picture showed the proud father-of-four kissing his his only daughter on the lips at an ice-skating rink and people were not happy about it.
It wasn't the first time David had come under fire for sharing such pictures and it seems the criticisms didn't bother him as he decided to share the picture with his fans anyway...