Royal fans spot something very unusual about Prince Harry's outfits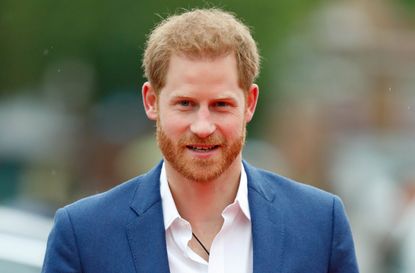 Prince Harry has had a few very important outings following the birth of his first son, but royal fans have spotted something very odd about his outfits…
The new dad recently attended his son Archie's christening (opens in new tab), and was also photographed when he introduced him to the world alongside wife Meghan.
However, despite looking like the picture of happiness in both occasions with his cute little bundle of joy, royal fans have spotted something very unusual about his outfits.
In recent times, Harry has been photographed numerous times wearing the same pair of brown swede shoes – including his trip to Morocco with Meghan earlier this year, and both on Archie's first photo call and the little royal's christening.
But some people are not impressed with his sartorial choices, and are urging the 34-year-old to buy new shoes.
One tweeted: 'I would cry when remembering Prince Harry's offhand manner of dressing for his son and heir's first official outing. Is this the exact same suit and suede shoes he wore when he showed the world his son?'
Another said: 'Could the Duchess of Sussex do something about how sloppy her husband Prince Harry looks? Start with burning those ugly ass worn out brown shoes and get him to button up his jacket for a photo op.'
A third added: 'I love Harry & Meghan. But could someone look into Harry's shoe collection and get him something new? All his shoes are the same suede shoes whether he is playing volleyball, at the christening, at a major event...suede suede. Get new shoes Harry! All the best.'
A fourth even went as far as calling the look 'scruffy': 'Does Harry OWN another pair of shoes and laces? Quite scruffy for his first child's christening?'
Of course Harry is not the only royal who recycles his wardrobe. Kate Middleton is known for re-wearing outfits, and Meghan has also repeated certain pieces of clothing and shoes since becoming a royal…