Mum horrified after spotting very rude design on daughter's panda jumper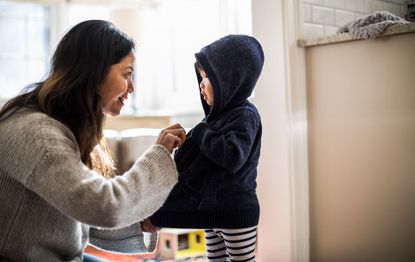 (Image credit: Getty Images)
We've all had a bit of buyer's remorse at one time or the other.

When we've been overexcited while shopping, bought something we thought would look amazing and then got home to discover we've made a big fashion blunder.
A dress that turned out to be slightly more shapeless than we thought, a redundant zip in an odd place, or maybe one frill too many.
So we head straight back to the shop with our receipt in hand.
But with kids' clothes, we tend to take a bit more care to make sure that this doesn't happen. After all, we want them to look as cute as possible!
However, one mum was left horrified with what she found on the seemingly cute jumper she bought for her young daughter.
The woman in question took a photo of her young child wearing what, at first glance, appears to be a sweet, baby pink, animal print fluffy jumper.
But after looking closely at what she had originally thought was an innocent jumper designed with cute pandas all over it, she noticed that the design was quite a bit ruder than it first appears.
The pandas that adorn the kids' jumper are actually positioned in very rude poses, as they seem to demonstrating a number of different sexual positions!
Since the mum uploaded the image to Reddit it has gone viral with hundreds of comments with people offering their opinions on the design.
While many expressed that it was clearly inappropriate for children, writing: I'd have some questions about who would buy this shirt for their kid to wear' and 'There are multiple, different racy scenes/panda positions. It's strange that it would come in a child size'.
Others offered solutions as to how they thought this design could have ended up on the child's clothing.
Many of the explanations were on the funnier side, with people commenting: 'Maybe they just washed it in really, really hot water and it shrunk ' and 'Maybe it's some place […] where they really love pandas and they figured those positions are showing the pandas playing together?'
However, a couple of people offered what could be a very plausible explanation, with one commenter writing: 'Seems possible that this pattern was meant for adults as a joke, but some clothing manufacturer bought it without really paying close attention'.
'I think that makes the most sense,' agreed another. 'The fabric was printed that way on purpose, but the kids clothing company was like, "Oh Pandas! Those are cute. Let's order this!" without really paying attention as it was listed in a fabric catalog somewhere. Maybe they just knew it was panda print without what exactly that entailed.'
Aleesha Badkar is a lifestyle writer who specialises in health, beauty - and the royals. After completing her MA in Magazine Journalism at the City, the University of London in 2017, she interned at Women's Health, Stylist, and Harper's Bazaar, creating features and news pieces on health, beauty, and fitness, wellbeing, and food. She loves to practice what she preaches in her everyday life with copious amounts of herbal tea, Pilates, and hyaluronic acid.