Sam Faiers unveils little Paul's new junge-themed bedroom and his £3,365 bed
The three-year-old has a new jungle-themed bedroom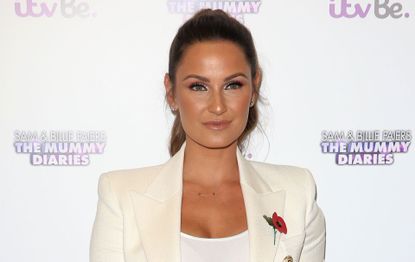 Sam Faiers has shared her renovation of little Paul's bedroom and fans are loving it – despite the very hefty price on some of the news items…
Mum-of-two Sam Faiers has been busy renovating her son Paul's bedroom and has transformed it into a jungle-themed wonderland.
Taking to Instagram to show off her handy work on her new family-orientated page called Knightley Adventures, Sam shared a series of pictures of Paul's new room and after lots of requests, has even shared where she purchased all the items.
Three-year-old Paul is no doubt going to be over the moon with his new room, but let's hope he doesn't decide to do have his own attempt at decorating on that very expensive new bed.
The standout item of the new renovation has to be Paul's new tree house bunk bed, which comes fitted with a slide!
Yes, that's right – can you think of a three-year-old that wouldn't want to get out of bed via a slide?
The dreamy tree house is from cuckooland (opens in new tab) and costs an eye-watering £3,365. It is hand-made to order and comes in 27 different colours but Sam has opted for a neutral tone that could be ivory, raw or pearl grey.
Let's hope cheeky Paul doesn't decide to do any of his own drawings on it as that it looks like marks will show up very easily!
Carrying on the jungle-theme Sam has also kitted Paul's room out with a leopard rug from Culture Vulture and she plans to get a zebra one too.
The Mummy Diaries star was flooded with messages about the chic animal print wallpaper and thankfully this was a lot more affordable.
Sam revealed that after searching high and low for something that matched her vision, she finally found it in Homebase for £19.99 a roll, which she describes as a bargain.
The tiger table is from Wayfair and the giraffe lamp is from Homesence. Sam's followers have praised the room with one writing: 'Paul's room looks amazing! Well done 👍🏻'.
Another said: 'Bedroom goals'.
Some people have commented that the renovation is quite expensive, teasing: 'Love it! So cheap as well at just over £2000. Bargain for a toddlers bed 🙄 love how relatable your page is already for us fellow toddler mothers'.
However, Sam's fans have defended her by saying: 'She can afford it for her kids so why not?! We would all do the same if we have that kind of money. At the end of the day it's her money.'
What do you think of Paul's new bedroom? Feeling inspired or is it a bit much for a three-year-old? Head over to our Facebook page to share your thoughts – we'd love to hear from you!