Infant school employs a nappy changer because so many pupils are not toilet-trained
Experts say five-year-olds are starting school without 'many' basic skills.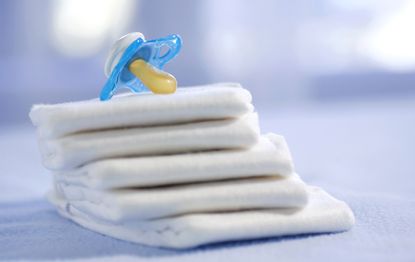 (Image credit: Sarah Monte/REX/Shutterstock)
Experts say five-year-olds are starting school without 'many' basic skills.
As every parent who's had toddlers will tell you, potty training (opens in new tab) is tough. Last year, one mum who couldn't get her four-year-old daughter out of nappies appeared on This Morning to talk about her struggles. Another parent offered to pay £50 an hour to anybody who could potty train her toddler in time for a visit from the in-laws.
Most children are ready to start potty (opens in new tab) training when they are between 18 months and three years old, because by this time their bladder capacity has increased and they have started to learn to recognise the feeling of needing to go to the toilet.
But more and more children are starting school without basic skills like being able to use the toilet, according to head teachers.
Last year, one mum sparked debate when she shared a letter from her son's nursery on parenting forum Mumsnet, which said that his teachers were planning to potty train him themselves.
And now an infant school Walsall, West Midlands, has employed a professional nappy changer because so many children are still not toilet trained by the time they start school.
'We are talking about five-year-olds here and it is not acceptable,' said Chris Towe, who is Walsall Council's portfolio holder for education.
After speaking to head teachers at 80 infant and primary schools in the West Midlands, he discovered that many pupils also struggled to communicate, hold a pencil, use cutlery or dress themselves.
'I was quite shocked really,' he told the BBC. 'If they haven't got basic skills, how can they be educated? This cannot go on. If it doesn't stop it is going to get even worse.
'Clearly, over the years, many parents have not been taking responsibility in making sure their children are ready for school.'
The council now plans to send letters to parents, which will tell them what skills their children need when they start school and how to get help with them.
Samantha is a freelance writer at Goodto who has been with team since 2019. Initially trained in psychology, she specialises in health and wellbeing and has additionally written for magazines such as Women's Health, Health & Wellbeing, Top Santé, Healthy, Refinery29, Cosmopolitan, Yahoo, CelebsNow, Good Housekeeping and Woman&Home.