Potty training: Your ultimate guide on how to potty train your child
How to potty train your child, from when to start, differences between boys and girls, common challenges and what to do when things don't go to plan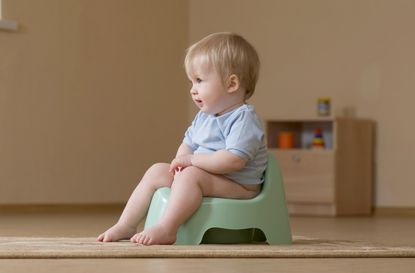 Potty training is a major milestone in any small person's life and one that marks a real watershed between infancy and childhood.
But before you (and your wallet) can enjoy the benefits of no more nappies, you've first got to get over the hurdle that is potty training.
This is an ultimate guide on how to deal with potty training and we've covered everything you could ever want to know about potty training, so you can use the links below to navigate easily through our advice. Or alternatively, read from the top to take in everything as you should approach it:
- Laying the foundations - How to tell if your child is ready for potty training - When's a good time to start potty training - Two methods of potty training - Help! It's not working - My child won't poo in the potty - Potty training boys - Potty training girls - Moving from potty to toilet - Real mums' potty training tips
What's the right potty training age?
Most children go through potty training between the ages of 18 months and three years. Between the ages of two and three, a child's bladder capacity increases significantly meaning that they can go longer between wees. It's also around this age at which your little one starts recognising and responding to the feeling of needing a wee or a poo. Of course, there will be some children who are out of nappies earlier and others for whom it takes a bit longer but like with any developmental milestones, they all get there in the end.
Don't rush them out of nappies
Unfortunately, rushing to potty training is something parents often get their own knickers in a twist about. Sometimes it's because they've got to get their little one dry before they can go to play group or nursery, or perhaps it's just because of that age old pressure of keeping up with the Jones's.
'We often speak to parents through our helpline who have been listening a lot to others, maybe their parents, in-laws, or to other mums who say we've just managed to potty train their own child in under a week. They are worried because it seems to be taking them a lot longer,' says Jayne Miller, helpline and information specialist for ERIC (Education and Resources for Improving Childhood Continence), the UK's leading continence charity.
And it does seem that potty training is a particularly touchy subject for us mums. A study of more than 2,000 women carried out by Huggies found that one in three mums had fallen out with a close friend or family member over how to raise their children, with potty training being the topic most likely to touch a raw nerve.
But whatever the reason, trying to push your child to master potty training before he's ready really is counter-productive. Studies have shown that if parents begin too soon, the process simply takes longer and is met with more resistance. So try not to stress even if it seems like your little one's the last of his playgroup peers to master the art of potty training and bladder control. The age at which he stops using nappies has nothing to do with his intelligence nor with your parenting skills and trying to encourage potty training before he's ready really is a pointless exercise. All you'll be doing is making a rod for your own back.
'If the process doesn't seem to be working and your child is due to start school or attend a nursery which won't take them unless they are completely potty trained, then perhaps that might be a point to get some help,' suggests Jayne. 'Talk it through with someone to see if there are different things you might do to try engaging your child.' Your health visitor can help you, or you can ring the Eric Helpline on 0845 370 8008.
'Usually it's not that there's anything wrong - a child who has something wrong with their bladder or bowel will have got picked up before they get to the potty training stage,' explains Jayne. 'Very often when we are talking to parents it is about behaviour - the parents' behaviour in relation to the child, or the child's behaviour with regard to the whole thing.'
How to potty train your child
Potty training: begin by laying the foundations
Potty training doesn't happen overnight but it needn't be a big job if you time it right and do lots of groundwork. From around 18 months, start planting seeds in your tiny tot's brain which can grow and take root long before you begin tackling the process in earnest. Hopefully, this way, he'll be more prepared for and receptive to the change from nappies when it does come.
Let him see you on the loo Toddlers learn by imitation. When he sees you or his siblings using the toilet, take the opportunity to talk to him about it. Explain that he can use the toilet when he's a bigger boy. Make it sound exciting. Tell him he won't have to wear nappies any more but can wear pants like you, daddy or his big brother.
Tell him about what happens when you use the toilet. Explain about how the poo or wee goes down the toilet, you wipe your bottom, flush the handle and wash your hands. Say things like: "Won't it be lovely when you don't have to have your nappy changed anymore."
Get him used to the idea of the potty Buy a potty (opens in new tab) and leave it lying around. Tell him what it is for and that he can use it to go to the toilet in when he's a bigger boy then let him do what he likes with it... sit on it, play with it even wear it as a hat.
Read books about using the potty There are loads of fantastic books available which are specifically designed to help your toddler to start thinking about and understanding the potty training process. Particular favourites are 'I Want My Potty' by Tony Ross and 'Pirate Pete's Potty' and 'Princess Polly's Potty', both of which are written by Andrea Pinnington and published by Ladybird Books.
Role play You could try incorporating the potty into a game. When you're going to the toilet, suggest he brings his favourite cuddly toy up to the bathroom to see if he would like to do a wee as well. Then you can practice acting it out together with teddy. If he's willing, you can encourage him to sit on the potty with his nappy on just to get a feel for it.
DVDs There are plenty of DVDs on the market to inspire and teach young children about potty training. Particular favourites are Bear in the Big Blue House - Potty Time With Bear, price from £4.25 and Elmo's Potty Time, priced from £4.83. Available from Amazon.co.uk.
Recognising when your child is ready for potty training
OK, so you've had months of laying the groundwork for potty training but you're not sure how to tell when or if he's ready for the next stage. Here are some signs to look out for which would suggest that your tot is now emotionally and physically ready to begin potty training.
He notices that his nappy is wet or soiled and wants you to take it off.
He stays dry for a couple of hours during the day.
He tells you he needs to go - perhaps by pointing or grunting. Or maybe breaks off from play to go off somewhere quiet for a poo.
He fills his nappy at the same time every day (for example, after breakfast.)
He's keen to show he's independent - perhaps by pulling off his nappy or wanting to undress himself.
He shows an interest in other people going to the toilet.
If your heart's not really in it... perhaps because of broken nights' sleep or because there are other things preoccupying you, wait until you're in a better frame of mind.
Don't start potty training if there are any big upheavals coming like starting nursery, moving house or the arrival of a new sibling.
Delay potty training if there's anything coming up which is likely to prove disruptive to your toddler's usual routine like a family holiday or a hectic schedule.
Maybe put off potty training until the summer months. Summer is a great time to start potty training. It's just so much easier when your little one isn't wrapped up in lots of layers and you can let them run around with next to nothing on or in toilet training friendly clothes.With the warmer weather those extra items of washing also won't seem so difficult to dry. And if your child is starting playgroup, nursery or school in September, then with patience and perseverance they could be dry by then.
Your child gets clear consistent messages about where to go and when.
The intensive nature of this method means that it is quicker.
You're pretty much tied to the house for a week or so which won't suit everyone.
It can be messy.
You may find that you have early success but that your little one takes a few steps back a couple of weeks down the line. This is a very normal response in children whichever method you employ but it can be particularly disheartening if you've put all your energies into such an intensive approach.
Less stress, less mess.
Life carries on as normal. It doesn't become all about potty training.
You can be tempted to encourage your child to simply go in his nappy or trainer pants when it's difficult to find a toilet or it's not easy to get out the potty. These sort of mixed messages can prove confusing and prolong the process.
An internationally published digital journalist and editor who specialises in SEO strategy and content production, Rachael has worked as a writer and editor for both news and lifestyle websites in the UK and abroad. Rachael's published work covers a broad spectrum of topics and she has written about everything from the future of sustainable travel, to the impact of the coronavirus pandemic on the world we live in, to the psychology of colour.