Sky presenter Simon Thomas has teddy bear made with his late wife's dressing gown to comfort son
This is really touching...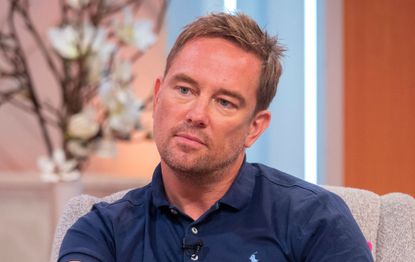 (Image credit: Ken McKay/ITV/REX/Shutterstock)
GoodTo newsletter
Sign up to the GoodTo Newsletter. You can unsubscribe at any time. For more information about how to do this, and how we hold your data, please see our privacy policy
Thank you for signing up to . You will receive a verification email shortly.
There was a problem. Please refresh the page and try again.
Sky Sports presenter Simon Thomas has found a heart-warming way to keep the memory of his late wife alive, and provide a much-needed way to comfort his nine-year-old at the same time.
The 45-year-old tragically lost his wife Gemma Thomas to leukaemia last year (opens in new tab), with doctors revealing the shock news that she had just three days to live following her diagnosis.
Taking to Instagram the former Blue Peter presenter shared a sweet snap of a bespoke teddy made from segments of Gemma's dressing gown, which he is planning to give Ethan this Christmas.
Captioning the image he wrote: 'Just love this so much. A Christmas present for the boy made out of Gemma's dressing gown.
'Thank you so much to the kind, talented and amazing Tarah Finlay for making something he'll treasure and find comfort from forever.'
A message on the front of the stripy blue and white teddy reads: 'My Darling Ethan I love you with all of my heart and always will Your Mum'.
Emotional fans reacted to the poignant post in their droves.
One wrote: 'This is such a wonderful present and a beautiful keepsake'
While another added: 'Made me cry! What a sweet lovely idea. There is something very soothing about parents dressing gowns when your [sic] a child. The perfect gift x.
A third continued: 'Lovely idea. I'm thinking of having a cushion made out of my late husband's favourite shirt to put on my bed myself and my daughter have just got through the first anniversary.'
In another post Simon revealed that he wanted to create something positive out of the tragedy of his partner's passing.
The star announced that he had become the president of cancer charity Bloodwise UK and had set up the Gemma Thomas fund in order to raise vital funds for blood cancer research.
Captioning the post he wrote: 'It is massive honour and my focus over the next few years is on raising awareness of #bloodcancer but also changing this one, chilling statistic on the cancer that took our Gemma's life – Acute Myleloid Leukaemia.
'At the moment only 15 per cent of those diagnosed with #AML will live beyond five years.'
Freelance Lifestyle Writer
Miriam Habtesellasie is a freelance lifestyle writer who has contributed content to GoodTo, Woman&Home, Women and Idealhome.co.uk. Miriam is based in London and is a fan of everything interiors, she admits to being spoilt for choice living in the capital. From stunning architecture right the way through to eye-catching department store window displays, she believes there's always an angle to be found that can translate to our abodes.