Stacey Solomon's fans love that she dressed her sons as women for Halloween
'Leighton is mortified bless him'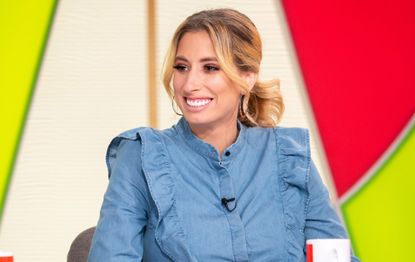 Stacey Solomon praised as a 'legend' for dressing her sons as women as she hosts a Hocus Pocus-themed Halloween.
Mum-of-two Stacey always loves the opportunity to dress up and this Halloween she pulled out all the stops to make one of her dreams come true.
Taking to Instagram the 29-year-old Loose Women panellist revealed: 'It's always been my dream to be Bette Midler from Hocus Pocus so today, I'm fulfilling that dream!'
As you may remember, Sarah Jessica Parker and Kathy Najimy played Bette's sisters in the film but as they weren't on-hand and Stacey had no other options, she roped in her sons Zachary and Leighton to fulfil the roles instead!
In the video caption she joked that the boys had wanted to dress as Skull Troopers but she had other plans.
The boys were initially a little shy and embarrassed, which is to be expected when you're 10 and six-years-old and your mum is broadcasting your Halloween costume to her 1.1 million Instagram followers.
The costumes were a huge hit with her fans those with several labelling her a legend!
One person said: 'Love this so much I'm so doing this to my boys when they are big enough lmao you legend xoxo.'
Another wrote: 'This is amazing! Leighton is mortified bless him'.
A third simply added: 'Legend'.
With all the Halloween fun over Stacey's attention has now turned to saying goodbye to her partner Joe Swash for a few weeks as he sets of for filming I'm A Celebrity Get Me Out Of Here in Australia.
The couple have recently taken the plunge to move in together and from Stacey's sweet goodbye message it's clear she's going to miss having him at home.
Taking to Instagram Stacey wrote: 'And he's off to the Ozzy Outback 😭😭😭😭 We are gonna miss you so much @realjoeswashy but we can't wait to watch you doing what you do best. No fun and Lots of trials please @imacelebrity @itv2 😂😂 Honestly though, our home will feel empty without you bub. Except for the bed, the bed will feel wonderfully spacious and snore free 😂😭😂😭😂😭'.
Did you dress up as a family for Halloween this year? Has Stacey given you some inspiration? Head over to our Facebook page to share your ideas and your favourite celebrity costumes from 2018!
Jessica currently works as a Senior Food Writer at Future. She writes food and drink-related news stories and features, curates product pages, tests, and reviews equipment, and also develops recipes that she styles on food shoots. An enthusiastic, self-taught cook Jess adores eating out and sharing great food and drink with friends and family. She has completed the Level 1 Associate course at the Academy of Cheese and is continually building on her knowledge of beers, wines, and spirits.