This Morning viewers distracted by one of 51-year-old mum's quadruplets – but can you spot why?
One of the quadruplets stole the limelight from their siblings…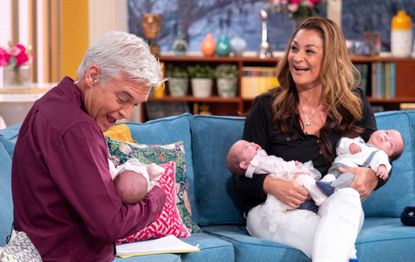 This Morning viewers were quick to post online about 51-year-old Tracey Britten and her quadruplets as one of the babies stole the limelight – can you spot why?
This Morning viewers were intrigued to hear from Tracey, who recently gave birth to quadruplets, but were distracted by one of the youngsters in particular…
Tracey joined Holly Willoughby and Philip Schofield with her four three-month-old babies on the This Morning sofa to discuss her reasons behind seeking IVF treatment.
She explained that she used inheritance money to receive treatment and wanted to have the children as a tribute to her late mother.
Tracey explained to Holly and Phil: 'My niece, my brother's daughter has twins but she [my mum] wanted one of her girls to have twins so what a better way to spend the money she left.'
Viewers couldn't get over the adorable quadruplets and took to Twitter to share their thoughts.
One wrote: '💕 how cute are those babies #ThisMorning', while another said: 'Oh those baby's 😍😍😍😍#thismorning'.
Unsurprisingly Tracey also faced some criticism for having four children at 51.
One person said: '51 years old with 4 babies wow! When they are 19 she'll be 70 years old this is sooooo wrong & unfair on those children! #ThisMorning'.
Another remarked: 'A lady has had quadruplets at 51 😵😵😵 imagine having 4 babies in one go. The thought of having 1 terrifies me. #ThisMorning'.
However, other viewers were less bothered by whether Tracey should have had the children, instead they were distracted by one of the babies.
The baby on Tracey's right-hand side had an unfortunate wardrobe mishap as their headband fell and covered their eyes like a blindfold.
Some viewers were concerned that no one had told Tracey about the headband slipping and several were worried as it covered the baby's mouth and then neck.
One person wrote: 'Can someone do something with that babies headband #ThisMorning', while another stressed: 'Can they focus more on the fact that that poor baby has a headband slipping down on her eyes and round her neck 😩🤦🏽 ♀️ #ThisMorning'.
However, on a more light-hearted note, several viewers joked that the baby was participating in the viral 'Birdbox challenge' which has come off the back of a new Netflix original film.
One person wrote: 'The little child doing the bird box challenge on @thismorning 😁😁😁 @ITV #Birdbox #ThisMorning'.
Another said: '@#thismorning can't believe one of the quads did birdbox with hairband 🤣🤣🤣🙈'.
What did you make of Tracey's interview with Holly and Phil? Did you spot this adorable wardrobe malfunction? Head over to our Facebook page to join the conversation!