Tom Fletcher shares touching tribute to uncle who suddenly passed away
This is so heartbreaking...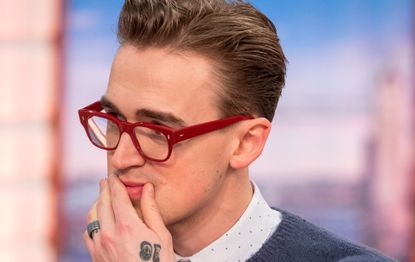 Tom Fletcher has taken to social media to share the devastating news that his uncle has passed away.
The McFly singer posted a heartfelt tribute to his beloved uncle Bill on Instagram, who died last Friday.
'My Uncle Bill sadly and unexpectedly passed away last Friday. He was a lovely man and I didn't see him anywhere near as often as I'd have liked. I have really fond memories of him from my childhood, one in particular when he let me sit on his lap and drive his car...on the main roads...I was about 4 (I'm told times were different back then so definitely don't try it!)!' he wrote.
The father-of-three also revealed how his uncle's memory continues to live on through his children Buzz, four, Buddy, two, and baby Max - who he welcomed to the world last month: 'I often see Bill in my son's faces and it saddens me that he only got to meet one of them, they would all have loved him. My thoughts and love are with the whole family right now. We'll miss you Uncle Bill. X'
Fans of the singer offered their sympathies, commenting on the post in their droves. One user wrote: 'So sorry for your loss Tom you and your family are in my thoughts.'
While another added: 'I'm sorry to hear this. Keep your head up and you can make new memory's with max x'
The news comes just months after Tom's wife Giovanna, 33, opened up about another heartbreaking loss for the family.
Revealing that she had suffered a miscarriage (opens in new tab) when the couple first started trying for a baby, she spoke to Heat World's Where's Your Head At? campaign - which aims to have trained mental health first aiders available at all workplaces and colleges.
'For me [the miscarriage] happened at six weeks, so before we had really told anyone [about the pregnancy],' she recalled.
'So then when you are telling people [about your miscarriage], you're not only telling them that you were pregnant but that you'd lost a child. I felt like I'd failed me, I'd failed Tom [and] I'd failed the baby.'
She added: 'It was my first taste of motherhood and I think it affected me in a really bad way. But again, talking about it is the best, best thing because you hear how other people have felt and you realise you're not on your own.'
Our thoughts are with Tom and his family.
Freelance Lifestyle Writer
Miriam Habtesellasie is a freelance lifestyle writer who has contributed content to GoodTo, Woman&Home, Women and Idealhome.co.uk. Miriam is based in London and is a fan of everything interiors, she admits to being spoilt for choice living in the capital. From stunning architecture right the way through to eye-catching department store window displays, she believes there's always an angle to be found that can translate to our abodes.