The Vampire Diaries star Matthew Davis announces he is expecting first child with wife Kiley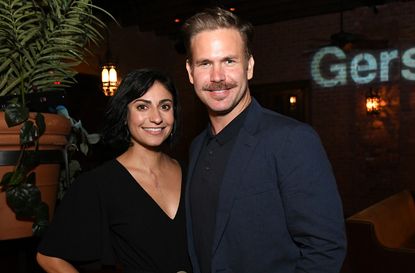 (Image credit: Getty)
Actor Matthew Davis has announced that he is expecting his first child.
The Vampire Diaries star took to his social media to reveal that he and wife Kiley are expecting their first child together.
Sharing the news with his 1.3 million followers, the 41-year-old posted an adorable snap of a pair of baby outfits, one monogrammed with 'and then there were five' (a reference to the couple, their two dogs, and their unborn baby), with two big hearts, two paws and a small heart underneath, and a second outfit printed with 'sh*t just got real…'.
The excited dad-to-be laid a picture of the baby scan on top of the cute outfits, captioning his post: 'Arriving 2020!!!'.
Wife Kiley also shared the exciting news, sharing a flatlay picture of two adorable outfits, one printed with the words: 'Daddy's super star'.
Revealing the gender and due date of the couple's baby, the mum-to-be wrote alongside her post: 'Arriving April 2020 #babygirl'.
Friends and followers rushed to congratulate the pair, with a stream of well-wishes being left in the duo's comments sections.
Twilight actress Nikki Reed, who is married to Matthew's Vampire Diaries co-star Ian Somerhalder commented: '😭🎉😭❤️❤️❤️'.
Writer and producer Julie Plec, who created The Vampire Diaries and its two spin-off shows The Originals and Legacies – all of which Matthew stars in as Alaric Saltzman – also commented on the dad-to-be's post, writing: 'Oh god for a second I thought this meant you were having triplets!', referring to the 'and then there were five' baby outfit.
Other comments included: 'Congrats Guys!! ❤️🙌‼️', 'OMG CONGRATULATIONS!!! A BABY GIRL😭💓💓💓 SO EXCITING!!!!', 'Congratulations to the both of you!! Wonderful news 💕💕💕' and ''Oh my gosh 😍😍😍😍I'm so happy for you both. Congratulations'.
The actor, who starred in 2001 cult movie Legally Blonde with Reese Witherspoon, Selma Blair and Luke Wilson, tied the knot with wife Kiley back in December just two days before Christmas.
Big congratulations to the expectant parents on the super exciting announcement!
Aleesha Badkar is a lifestyle writer who specialises in health, beauty - and the royals. After completing her MA in Magazine Journalism at the City, the University of London in 2017, she interned at Women's Health, Stylist, and Harper's Bazaar, creating features and news pieces on health, beauty, and fitness, wellbeing, and food. She loves to practice what she preaches in her everyday life with copious amounts of herbal tea, Pilates, and hyaluronic acid.