When will 12 to 15 year olds get the Covid vaccine in the UK?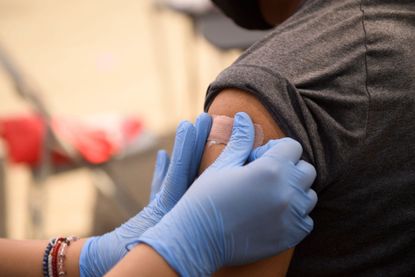 (Image credit: AFP via Getty Images)
GoodTo newsletter
Sign up to the GoodTo Newsletter. You can unsubscribe at any time. For more information about how to do this, and how we hold your data, please see our privacy policy
Thank you for signing up to . You will receive a verification email shortly.
There was a problem. Please refresh the page and try again.
Vaccines Minister Nadim Zahawi has now confirmed when 12 to 15 year olds will get the Covid vaccine. It comes following new advice from the UK's chief medical officers (CMOs).
While most children themselves only experience mild or asymptomatic coronavirus (opens in new tab), certain factors tipped the scales this week and led health officials to approve the vaccine for children aged 12 to 15 as soon as possible. Professor Chris Witty, the head CMO for the UK, said it was a "difficult decision" to make.
While there are still concerns over whether all children should get the Covid vaccine (opens in new tab), Professor Witty said that it would be "an important and useful tool" for reducing disruption to schooling in the coming months. Combined with the added health benefit of the vaccine in reducing illness and infection, it made sense to start vaccinating younger teens.
When will 12 to 15 year olds get the Covid vaccine?
The NHS will offer those between 12 and 15 years old one dose by September 22 2021.
Currently, the plan is to only offer the first dose of the Pfizer vaccine (opens in new tab) to children in this age group - rather than the two doses offered to all those over 16 years old old. According to data published in December 2020 (opens in new tab), just one jab is still 52% effective at preventing serious illness and infection.
Mr Zahawi said that the School Age Immunisation Service would offer "the bulk" of the programme. Separate vaccination sites will also be available for schools where this isn't available.
He said that all vaccinations delivered by the service would be subject to parental consent. However, he also noted that medical professionals would discuss the vaccine with parents. If there was a difference of opinion between parent and child, they would bring them together to try and reach an agreement.
If no such agreement can be reached, the clinician will decide whether the child is capable enough to make their own decision about whether or not to have the jab.
The new guidance to offer vaccinations to 12 to 15 year olds only applies to England. The Scottish, Welsh and Northern Irish governments have yet to confirm they will also offer the vaccine to the same age group.
Previously, only those aged 12 to 15 who were at serious risk from the virus were eligible for vaccination (opens in new tab). This included children who had:
A severe neurodisability
Down Syndrome
A severely weakened immune system, including some children with cancer
Profound and multiple learning disabilities
Some healthy children over 12 who live with vulnerable people could also have the vaccine if they chose to. As could those "on the cusp" of turning 18. Anyone aged 16 or over is now eligible for both doses.
The NHS began offering the jab to all 16 and 17 year olds in August, on the basis that they would have built up 2 weeks worth of immunity before they returned to school in early September.
Health Secretary Sajid Javid, who has since resigned (opens in new tab), followed up the announcement from the vaccines minister, saying, "I have accepted the unanimous recommendation from the UK Chief Medical Officers to offer vaccination to those aged 12 to 15. This will protect young people from catching Covid-19, reduce transmission in schools and help keep pupils in the classroom."
He has also urged anyone eligible for a vaccine, who has not come forward yet, to book in for their jab among warnings of a virus spike in the winter months.
No 10 has reportedly not ruled out the idea of a circuit breaker lockdown (opens in new tab) as a last resort in the coming months, if the NHS become overwhelmed with Covid-19 cases in England. They denied, however, that there was one happening over October half-term.
At the same time as 12 to 15 year olds are having their first dose, the government will announce how to book a booster jab (opens in new tab) for those eligible.
Will all 12 to 15 year olds get the Covid vaccine?
Yes, all those 12 to 15 years old will be offered just one dose of the Pfizer vaccine.
Those with underlying health conditions (opens in new tab) in this age group will be offered both doses of the vaccine.
This move by the British government to offer the vaccine to young teens falls in line with many other countries. This includes the US and Canada as both countries have started vaccinating all those over 12 years old.
However, the rollout of the vaccination programme to 12 to 17 year olds will be carefully monitored. In the initial rollout to those aged 18 and over, many attempted to get their second Covid vaccine early (opens in new tab). Those who can prove a double coronavirus vaccination (opens in new tab) are allowed to travel to amber list countries without quarantining of their way home, increasing the demand of a speedy second jab.
When did the MHRA approve the vaccine for this age group?
The Medicines and Healthcare products Regulatory Agency approved the Pfizer vaccine for 12 to 15 year olds in June 2021. Following advice from the JCVI, the government have now confirmed that they will offer the vaccine to this age group.
In December, the regulatory body approved the Pfizer vaccine for those 16 and 17 years old. At the time, the JCVI advised that 16 to 18 year olds in the Phase 1 group have a vaccination. Those living in a household with someone who has a suppressed immune system were also eligible.
The regulatory body said the vaccine was safe to use in these age groups. They also said the benefits outweighed any risks when it came to vulnerable teenagers.
This statement followed a "rigorous review" of the safety and quality of the jab in those under 16 years old by the MHRA and the government's own independent advisory body, the Commission on Human Medicines (CHM).
"No extension to an authorisation would be approved unless the expected standards of safety, quality and effectiveness have been met," Dr June Raine, MHRA chief executive, said in a statement at the time.
In March, Pfizer published their own research (opens in new tab) on the effects of the vaccine on those in the 12 to 15 age group. They also suggested that the vaccine was highly effective (up to 100%) and produced "robust antibody responses".
These results were better than those of a trial of 16-15 year old participants in an earlier analysis". Young people in this age group also "tolerated" the vaccine well.
When will 16 to 17 year olds have the vaccine?
All 16 to 17 year olds are now eligible to have both doses of the Pfizer vaccine.
Vaccinations predominantly took place at walk-in clinics and GP surgeries for this age group, just the same as others. However, thousands of young people took up the chance to have the jab in August at Grab-A-Jab sites. Two of these were Reading and Leeds Festival.
As of September 2, the NHS reported that 50% of 16 to 17 year olds had taken up the offer. Only four weeks later, Health Secretary Sajid Javid said the programme was a huge achievement.
"It is fantastic to see the enthusiasm of young people to get the jab. And great news that more than half of 16 to 17s in England are now vaccinated with a first dose as they return to colleges and sixth forms," he said.
"Thank you for playing your part in helping us live safely with this virus. So we can continue to enjoy the freedoms we missed like seeing friends and family.
"Jab by jab we are building a wall of defence that has already saved more than 105,000 lives and prevented 143,000 hospitalisations in England alone. Do not delay – please come forward and get both of your vaccines as soon as you can."
Grace Walsh is a Features Writer for Goodto.com, covering breaking news health stories during the Covid-19 pandemic as well as lifestyle and entertainment topics. She has worked in media since graduating from the University of Warwick in 2019 with a degree in Classical Civilisation and a year spent abroad in Italy. It was here that Grace caught the bug for journalism, after becoming involved in the university's student newspaper and radio station.