When will it get warmer in the UK?
"Baby it's cold outside"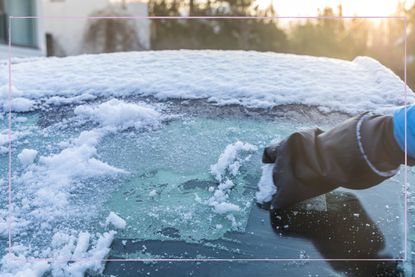 (Image credit: Future/Getty)
Over the artic temperatures? Here's when it will get warmer in the UK.
It's safe to say that January isn't exactly everyone's favourite month of the year, with winter weather, post-Christmas blues and less daylight all leaving us feeling a little glum. January 2023 has certainly had a lot of us wondering if it will snow in the UK (opens in new tab) thanks to a significant drop in temperatures and the arrival of some freezing fog (opens in new tab). So it's no surprise really that parents and kids alike have been curious to know how cold does it have to be for schools to close? (opens in new tab)
Just like our explainer on when does it start getting lighter (opens in new tab) in the mornings and evenings, we've done some research and shared details on when it's expected to get warmer in the UK too. Because no-one likes working from home wearing a hat, scarf and gloves at their desk.
When will it get warmer in the UK?
The Met Office predict that late January could see the UK get warmer, with "temperatures mild in the northwest but likely around average in the southeast". This will continue into early February when temperatures will be "around or slightly above average, with any colder spells being short-lived".
Whilst their long-range forecast (opens in new tab) says temperatures are expected to rise, Met Office spokesman Stephen Dixon told the Mirror (opens in new tab) that it's too early to say exactly how much temperature will go up by. He also warns that there's the possibility of modest snow appearing in the North from next week, though this is "not particularly unusual for the time of year".
Heathrow just recorded its coldest night since December 2010 and coldest January night since -9.1C in 1987 📉 pic.twitter.com/ncTAnw78sjJanuary 23, 2023
See more
BBC Weather's monthly outlook (opens in new tab) agrees that late January and early February is the time we can see a slight improvement in temperatures.
From Sunday 29 January to Sunday 5 February they predict: "The air mass will not be especially cold - in fact, temperatures should be above average on the whole, but there will be frost and foggy nights due to lighter winds, and any lingering fog would suppress daytime temperatures."
In fact the wind often makes it feel colder than it actually is, so be aware of this on windier days.
As for when we can expect a pro-longed period of warmer temperatures in the UK - we'll have to wait till March roughly when Spring starts. According to Current Results (opens in new tab), temperatures in March "average a daily high of 9 degrees Celsius (49 degrees Fahrenheit) and a low of 2 °C (36 °F)."
The Met Office reported March 2022 (opens in new tab) as the sunniest March on record (dating back to 1919). Whilst these rays led to a temperature rise in some areas, there were parts of the UK that still experienced below zero temperatures.
Dr Mark McCarthy (opens in new tab) of the National Climate Information Centre said of March 2022: "We've seen the warmest weather of the year so far with 20.8C recorded in London on 23 March, but we also saw a low of –9.1C at Aboyne at the start of the month, highlighting the variability of March in the UK."
Here is the UK we have had the sunniest March since 1929, it has also been one of the warmer starts of the year, with the first 3 months being warmer than average, especially maximums.March has also been dry.This #dataviz shows the UK weather/climate summary for the past year. pic.twitter.com/OA2QHxfyojApril 1, 2022
See more
How cold does it have to be to snow?
According to America's National Snow and Ice Data Center (opens in new tab), temperatures need to be at or below freezing (0°C) in order for it to snow and settle. "If the ground temperature is at or below freezing, the snow will reach the ground," they confirm.
However, it can snow above freezing in some circumstances - just don't expect it to stick around for long. Often when snow falls, but melts when it hits the ground, it is because the ground temperature is too high.
"As a general rule, though, snow will not form if the ground temperature is at least 5°C (41°F)," the NSIDC state on their website.
With regards to snow in the UK, The Met Office deems (opens in new tab) that "the heaviest snowfalls tend to occur when the air temperature is between zero and 2°C."
At what temperature does snow melt?
Temperatures need to be above freezing in order for snow to start melting. When temperatures hit above 2 degrees this is when snow falls as sleet instead.
Similarly snow will fall as rain in circumstances where temperatures are above 5 degrees celsius.
Snow occurs when tiny ice crystals in the clouds combine to form snowflakes. When enough crystals stick together, they become heavy enough to fall to the ground.
When does Spring start?
Spring will officially start on March 20 in 2023. The Spring Equinox marks the start of Spring in the Northern Hemisphere, when the sun passes north through the Earth's equator. In the UK on this date, it is expected to occur at 9.24pm.
From March 20, days will become longer due to the hours we are exposed to sunlight being longer. Whilst we in the Northern Hemisphere will see the start of Spring, those in the Southern Hemisphere will begin their Autumn.
Video of the Week
Emily Stedman is the Features Editor for GoodTo covering all things TV, entertainment, royal, lifestyle, health and wellbeing. Boasting an encyclopaedic knowledge on all things TV, celebrity and royals, career highlights include working at HELLO! Magazine and as a royal researcher to Diana biographer Andrew Morton on his book Meghan: A Hollywood Princess. In her spare time, Emily can be found eating her way around London, swimming at her local Lido or curled up on the sofa binging the next best Netflix show.