Will there be a heatwave in the UK in 2023? Latest forecast
We look at the UK weather forecast as temperatures are predicted to rise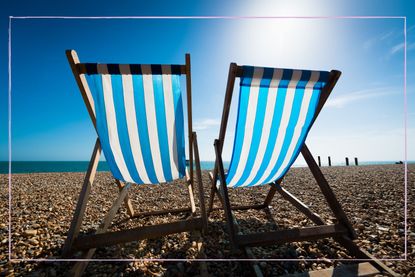 (Image credit: Getty Images)
As the UK begins to see some spring sunshine, many are asking if we can expect a heatwave this summer...
Now that spring has arrived and temperatures are slowly starting to rise, thoughts have turned to when we can expect warmer weather and when summer starts. Last year saw record temperatures in the UK, with some areas experiencing highs of 40C in what became a sweltering summer - and the warmest on record.
Many of us were frantically looking for ways to keep the house cool and wondering if you should keep windows closed in hot weather - but it seems those struggles have been forgotten, as now everyone's ready for some sunshine and searching for the best sun creams to stock up on this year, not to mention the best outdoor toys and the best paddling pools to keep kids cool and entertained as the temperature soars.
Will there be a heatwave in the UK in 2023?
Forecasts suggest that 2023 could see heatwave in the UK, with the return of the 'El Niño' climate phenomenon making it likely that the world will exceed 1.5C of warming.
The hottest year in recorded history, 2016, was also driven by a major El Niño - which is a term used to describe the warming of sea surface temperature that occurs every few years, usually in the Pacific.
Carlo Buontempo, director of the EU's Copernicus Climate Change Service, recently said: "El Niño is normally associated with record breaking temperatures at the global level. Whether this will happen in 2023 or 2024 is not yet known, but it is, I think, more likely than not."
Meanwhile, senior lecturer at Imperial College London's Grantham Institute, Friederike Otto, said: "If El Niño does develop, there is a good chance 2023 will be even hotter than 2016."
And Met Office meteorologist Honor Criswick told The Independent that there is "a greater than normal chance" of heatwaves in the UK this summer, which is "consistent with our warming climate".
She said, "The increased chance of warm conditions through the period is consistent with our warming climate. Whilst this doesn't necessarily mean a heatwave will occur, it does increase the likelihood of this compared to normal."
When is the next heatwave in the UK?
While there is currently no official heatwave forecast for the UK, temperatures could reach a high of 24C this bank holiday weekend - making it the hottest temperature of the year so far with dry and sunny weather for many.
The UK experienced a 'mini' heatwave on 17 April, while temperatures also climbed higher than in previous weeks over the bank holiday weekend at the end of April and in mid-May.
Britons can expect more of the same over the final May Bank Holiday this weekend when the mercury could reach its highest figure in 2023.
The hottest temperature of 2023 so far was recorded in Cardiff on Monday 22 May, with a high of 23.4°C.
Meanwhile, the long-range forecast for the period of Tuesday 30 May until Thursday 8 Jun says most areas of the UK "should remain predominantly dry with a fair amount of sunshine" along with light winds and, in some southern and eastern areas, breezier conditions but "remaining warm" for most of the country.
Whilst many places stay warm over the Bank Holiday weekend and into next week, cooler air will temporarily affect northeastern areas of the UK pic.twitter.com/Rt6O1NyAPoMay 25, 2023
See more
However, the Met Office explains that in order for a weather event to be an official heatwave, the location must record "a period of at least three consecutive days with daily maximum temperatures meeting or exceeding the heatwave temperature threshold." In the UK, these thresholds vary by area.
For example, a heatwave in London must reach a temperature of above 28C, while in Scotland the threshold is 25C.
Where is there going to be a heatwave in the UK?
The highest temperature recorded in 2023 so far was in Cardiff. Prior to this, the hottest day of the year so far was on Saturday 29 April, when a high of 20.2C was recorded in Pershore, Worcestershire.
Over the next few days, Met Office weather maps suggest the hottest temperatures will be recorded in southeast Wales and around the Bristol Channel, where highs of 24C are possible on Saturday 27 and Sunday 28 May.
And with many climate scientists anticipating the return of the El Niño, it won't just be the UK that experiences hotter than average temperatures this year, as the climate phenomenon affects the entire globe.
Will it be a hot summer in the UK in 2023?
The Met Office has predicted that 2023 will be hotter than 2022, and one of the warmest years on record. Temperatures are predicted to rise by between 1.08C and 1.32C, which will mark the 10th year in a row that global temperatures will reach at least 1C above average.
This has been attributed to both climate change and the ending of the weather pattern known as La Niña, after three years of cooler-than-average sea temperatures in the Pacific Ocean causing lowered average global temperatures.
In addition, Exacta Weather forecaster James Madden told the Daily Star that an African Plume heading towards the UK will see temperatures as high as 35C in the UK this summer. He said the heatwave is expected to arrive in late August, while two earlier heatwaves - one in early June and the second in mid-July - are likely to push the mercury into the low to mid-30s.
However, Madden added that temperatures won't be quite as high as the scorching summer of 2022. He said: "We are not expecting anything of a similar nature this time around in terms of record heat or temperatures hitting the 40C mark."
"However, the peak of these heat surges in June and July could see maximum temperatures ranging in the low to mid 30s, and the late summer/August heatwave could sign off summer 2023 with temperatures ranging a notch or two higher than this as a potentially 'high confidence' African plume bathes our shores with some extensive late summer heat and sunshine for many parts of the country."
In bad news for sunbathers, it is also expected these periods will be muggy, humid and cloudy, without "any lengthy periods of sunshine".
How hot are temperatures predicted to get in the UK?
It has been suggested that El Niño could see global warming reach the crucial barrier of a 1.5C rise. However, it's too early to know just yet what the effects of El Niño will be.
Last summer, the UK had one of its hottest summers on record, with temperatures exceeding 40C for the first time. The Met Office issued a red weather warning for extreme heat, and drought was officially declared in some areas of the country.
Data from the Met Offices UK climate averages shows that from the period of 1991 to 2020 the average maximum temperature in the UK in April is 12.03°C, while the average minimum temperature is 3.75°C.
Peak temperatures in the UK are recorded in August, when the average maximum temperature is 19.31°C, with the average minimum temperature recorded as 10.97°C.
Average temperatures in the UK in August by country:
England - Maximum 20.85°C, minimum 11.77°C
Scotland - Maximum 16.96°C, minimum 2.789.61
Wales - Maximum 18.99°C, minimum 11.22°C
Northern Ireland - Maximum 18.31°C, minimum 10.67°C
If you're getting ready for the start of summer in the UK, you might want to check out our guides on the best sunscreens for your face and the best sunscreens for kids and toddlers.
Related features:
Video of the Week
Ellie is Goodto's Feature Editor, having joined the team as a Junior Features Writer in 2022, and covers everything from wellbeing for parents to the latest TV and entertainment. Ellie has covered all the latest trends in the parenting world, including baby names, parenting hacks, and foodie tips for busy families. She has a distinction in MA Magazine Journalism from Nottingham Trent University and a first-class degree in Journalism from Cardiff University, and previously Ellie has worked with BBC Good Food, The Big Issue, and the Nottingham Post, as well as freelancing as an arts and entertainment writer alongside her studies.