The Hills star Whitney Port reveals she suffered a miscarriage just two weeks ago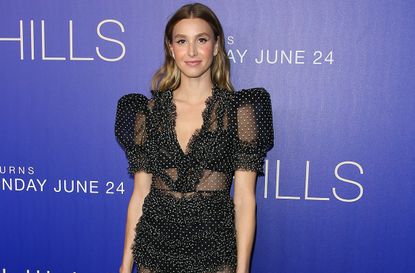 (Image credit: Getty)
Whitney Port has revealed that she recently suffered a miscarriage.
The iconic The Hills star took to Instagram to share the sad news with her 1.4 million followers, opening up on her podcast With Whit.
'This is really hard for me to write,' Whitney commented alongside the video she posted where she discussed the details of her devastating ordeal. 'Two weeks ago, I had a miscarriage. The amount of various emotions I felt in the past couple weeks have been extreme...from shock to sadness to relief, which then led to guilt for feeling that relief.'
The TV star, who is already mum to one-year-old son Sonny with husband of four year Tim Rosenman, went on to open up about the emotions that she experienced in the last two weeks since suffering the miscarriage (opens in new tab).
'My identity has been shaken in regards to who as a mom and human being,' she continued. 'I'm currently in the process of learning to accept that my feelings are valid no matter what they are. Whether or not people feel the same way as me or not. They are my personal emotions that are the result from my own journey.
'The video above is a glimpse into the story and coming to terms with how I feel,' she added. 'I welcome anyone to share their stories or feelings. I want my platform to be an open place where we can share difficult conversations.'
Fans and acquaintances took to the comments section of Whitney's post to provide message of support to the 34-year-old, with many thanking her for her candour.
'This is a topic that so rarely is talked about,' wrote one fan. 'So many women experience miscarriages and we are felt alone because we think we are the only ones who have gone thru it.. thank you for bringing this up and being raw honest about it'.
Read more: After a miscarriage - How to cope with a miscarriage (opens in new tab)
'Thank you, Whitney, for being so real and open,' added another. 'You don't have to be, but you are and it matters.'
Others commented: 'You aren't a bad person. Just think of it as out of your control' and 'How brave of you to share - all the best'.
Aleesha Badkar is a lifestyle writer who specialises in health, beauty - and the royals. After completing her MA in Magazine Journalism at the City, the University of London in 2017, she interned at Women's Health, Stylist, and Harper's Bazaar, creating features and news pieces on health, beauty, and fitness, wellbeing, and food. She loves to practice what she preaches in her everyday life with copious amounts of herbal tea, Pilates, and hyaluronic acid.