Why are rail workers striking? Plus the different rail unions explained
Everything to know about the ongoing train strikes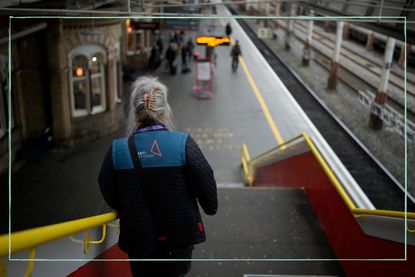 (Image credit: Getty Images)
Britain has seen months of train strikes that have caused havoc on the railways, but many want to know exactly why are rail workers striking?
It's safe to say that the past few months have been full of travel chaos in Britain, and it looks like the disruption won't be going away any time soon, with the RMT union announcing a number of 48-hour strikes in December and January as well as strikes on Christmas Eve.
There are many questions that have arisen as a result of the industrial action - from when is the next train strike (opens in new tab) and how much do train drivers earn (opens in new tab) to how to refund your train tickets (opens in new tab) and, of course, why are rail workers striking?
Why are rail workers striking?
Rail workers are striking due to an ongoing dispute over pay, job security and working conditions. The dispute is between the unions - which represent the rail workers - and the government and rail companies.
As inflation in the UK hits 11%, rail workers are asking for a pay deal that better reflects the cost of living, arguing that the stagnation in their pay is an effective pay cut. However, the rail industry is under pressure to save money, following the effects of the pandemic and less people choosing to travel by train.
Rail bosses want reforms and to modernise the railway - changes which the RMT union disagrees with - meanwhile Network Rail plans to cut 1,900 jobs as part of changes to the way its maintenance teams work.
There have been no threat of compulsory redundancies by either Network Rail or train operators, but the RMT said since the ballot for strike action that rail companies have given no guarantees against redundancies.
The most recent pay offer from the Rail Delivery Group (RDG) - which represents train companies - included a pay increase of up to 8% over two years and a guarantee of no compulsory redundancies until April 2024. In exchange, the RDG wants repurposing or closing of ticket offices and Sunday working where not already in place.
The RMT has said the terms are unacceptable and rejected the offer, with general secretary Mick Lynch (opens in new tab) saying: "We have rejected this offer as it does not meet any of our criteria for securing a settlement on long term job security, a decent pay rise and protecting working conditions."
Meanwhile, Network Rail has made an offer that includes a pay rise of up to 9% over two years. The RMT has said it will put the new offer to its members in an electronic referendum, but is urging members to reject it.
Following the latest announcement of strikes from the RMT, Mick Lynch said: "The employers are in disarray and saying different things to different people sometimes at the same time. This whole process has become a farce that only the new Secretary of State can resolve. When I meet him later this week, I will deliver that message.
"In the meantime, our message to the public is we are sorry to inconvenience you, but we urge you to direct your anger and frustration at the government and railway employers during this latest phase of action."
Why are train drivers striking?
Train drivers are also striking over a dispute about pay. ASLEF - the union that represents train drivers - has staged several strikes in the past few months, with the most recent on the 26 November.
Picket lines are still strong across the country. Thanks to all who have come along to show support and solidarity pic.twitter.com/P2b04ivwJMNovember 26, 2022
See more
A statement on the ASLEF website reads: "Train drivers who kept the country moving through the pandemic have not had a pay increase since 2019. We are asking for pay which keeps pace with the cost of living...Inflation is now running at about 12% so without any increase, drivers are being asked to take a real terms pay cut, while the companies expect us to work just as hard and for just as long."
ASLEF general secretary Mick Whelan said ahead of train strikes that went ahead in October: "We would much rather not be in this position. We don't want to go on strike – withdrawing our labour, although a fundamental human right, is always a last resort for this trade union – but the train companies have been determined to force our hand."
What does RMT stand for?
RMT stands for The National Union of Rail, Maritime and Transport Workers. The RMT is a trade union that represents more than 83,000 members from almost every sector of the transport industry. The union leader is general secretary Mick Whelan.
A statement on the RMT website reads: "Protecting and bettering our members' pay and conditions is the key RMT objective. We negotiate with over 150 transport-sector companies - using every opportunity to drive home our positive agenda for better pay, shorter hours and safer working conditions."
"We need the government to get its act together and be a facilitator."Ahead of today's meeting with the Secretary of State @Mark_J_Harper , @RMTunion Mick Lynch sets out a road map to a deal in the National Rail Dispute#RailStrikes #SupportRailWorkers pic.twitter.com/qDJ0nuqAFPNovember 24, 2022
See more
Different rail unions
ASLEF
ASLEF is the union that represents train drivers. It has over 21,000 members employed by train operating companies, the freight companies, London Underground and Light Rapid Transport.
ASLEF stands for The Associated Society of Locomotive Engineers and Firemen. They says: "The ASLEF Charter provides a platform for negotiation through which companies can begin to understand and meet our members' aspirations. As pay and conditions of our members advance, so the Charter must continue to evolve to keep pace and reflect changing priorities."
The union's general secretary is Mick Whelan, who joined the railway industry in 1984. He has held his position since 2011.
TSSA
The TSSA is a trade union representing workers in the transport and travel industries in the UK, and stands for the Transport Salaried Staffs' Association.
They are also currently in dispute with Network Rail and Department for Transport train operating companies over pay and job security, and members working for Avanti West Coast and c2c will be striking in December.
Ahead of strikes planned for November, TSSA Interim General Secretary Frank Ward said: "These issues are not going away, and I urge the new Transport Secretary, Mark Harper, to instruct train operators to get back round the table and find a resolution to these disputes which meets the aspirations of our members. We are ready to meet with them, any day, any time. The ball is very much in their court."
Unite
Unite the Union is a trade union representing members working across all sectors of the economy in Britain and Ireland. Though it is not specifically a rail or transport union, some of its members who work at Network Rail have previously joined strike action.
For example, on Saturday 1 October and Saturday 8 October, members of Unite employed in electric control rooms joined other rail unions in taking strike action.
In December, Unite members employed by Network Rail will take strike action on 12, 13, 16, 17, 25, 26 December and 3, 4, 6 and 7 of January, along with RMT members.
What is the government response to the train strikes?
The government has been critical of the train strikes, with former transport minister Grant Shapps previously labelling them a "huge mistake" that will stop people attending hospital appointments, sitting school exams or getting to work.
Following the latest announcement of strikes, current transport secretary Mark Harper told Sky News (opens in new tab) "It's very disappointing what the RMT have announced. They've had a new and improved pay offer which offers job security and a fair pay deal, and instead of accepting that and calling off strikes they've actually called more strikes over the Christmas period."
He added: "I think the government's played its part. We've made sure there was a new and improved offer which I think is fair for RMT members."
It's disappointing that, despite recent positive developments, the RMT has voted for up to six more months of strikes. My message to union leaders is to keep working with employers – not against them – the very future of the industry depends on it.November 16, 2022
See more
What do the public think of the train strikes?
According to YouGov (opens in new tab), Britons tend to oppose planned RMT rail strikes this winter, with their polls showing 47% opposed and 41% supporting the industrial action.
Recently, there has been particular concern around the impact of train strikes from members of the hospitality industry, who fear the walk outs over the festive period will impact trade and jobs.
Simon Emeny, boss of the pub chain Fuller's, told the BBC (opens in new tab): "It's been a challenging two or three years for hospitality, so we are all looking at this Christmas as a chance to trade well ahead of what will probably be a tricky winter and these train strikes are going to impact the hospitality sector - but more importantly, hospitality workers.
"They will probably have hours cut, see tips significantly reduced if these train strikes still happen. We are positive about Christmas but the train strikes are a big problem for the sector."
Video of the Week:
Ellie joined Goodto as a Junior Features Writer in 2022 after finishing her Master's in Magazine Journalism at Nottingham Trent University. Previously, she completed successful work experience placements with BBC Good Food, The Big Issue and the Nottingham Post, and freelanced as an arts and entertainment writer alongside her studies. In 2021, Ellie graduated from Cardiff University with a first-class degree in Journalism.