Game of Thrones star Carice Van Houten is expecting her first child
The actress took to social media to announce the happy news!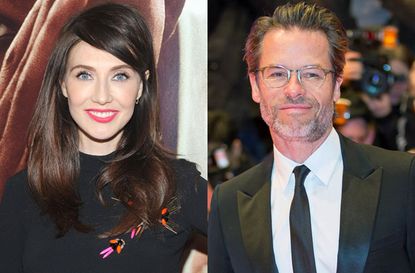 Game of Thrones actress Carice Van Houten has revealed some exciting news... she and boyfriend Guy Pearce are expecting their first baby together!
The 39-year-old star, who plays 'Red Priestess' Melisandre in the hit show, announced the happy news on her Instagram account and even referenced one of the famous storylines from Game of Thrones, saying: 'Yes. It's true. Let the shadow baby jokes begin.'
Fans of the now cult TV show will know that her character become pregnant with an evil 'shadow monster'. After a horrifying scene when she gave birth to the creature, she used her powers as the Red Priestess to send it after one of her enemies.
Carice and Australian actor Guy, who's starred in Neighbours as well as hit films Memento and Iron Man 3, have been fuelling romance rumours for months since Guy announced his split from his wife of 18 years, Kate Mestitz, back in October 2015. The announcement comes as a surprise to fans of 48-year-old Pearce, who's been outspoken in the past about his doubts on becoming a father.
He told the Guardian in 2007 'I don't even need them. There are enough babies in the world. Besides, I don't think I would be good for babies'. The star has referenced his own temperament as the reason behind his doubts, telling The Independant in 2011: 'I believe you need to have a level of emotional consistency when you raise a child and I don't know that I have that. It would be unfair to inflict that on a child.'
It seems, however, that since the news that he's to become a parent with girlfriend Carice, Guy has changed his mind. When Carice took to Twitter to announce the news, saying: 'Ok. I'm ready for your shadowbaby jokes', Guy responded with: 'Nothing like the prospect of a shadowbaby to change your mind about becoming a Father !!'
Carice and Guy have kept their romance private, and have never spoken publicly about their relationship. Guy split from his wife of 18 years Kate last year, saying at the time: 'No-one knows me like Kate does, and we'll forever be appreciative of our mutual respect. We've both grown enormously through our relationship, but sadly, the time has come to part ways.'