'What an inspiration' Georgia Jones praised by fans for honest post about her post-partum body
McFly's Danny Jones' wife Georgia has been very honest about her post-pregnancy body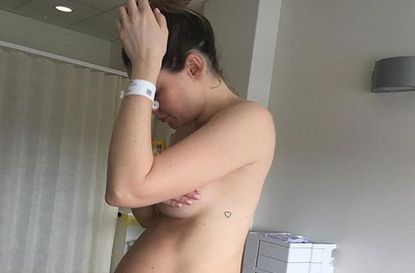 GoodTo newsletter
Sign up to the GoodTo Newsletter. You can unsubscribe at any time. For more information about how to do this, and how we hold your data, please see our privacy policy
Thank you for signing up to . You will receive a verification email shortly.
There was a problem. Please refresh the page and try again.
Georgia Jones has been praised by fans for sharing the reality of a post-pregnancy body in a snap shared on social media.
It's been just over a week since Georgia Jones gave birth to her first child - and her honest admission of missing her pre-pregnancy body has won her a legion of fans.
The wife of McFly's Danny Jones, who welcomed son Cooper Alf on January 27, gave a very frank account of the changes in her appearance just hours following childbirth in a candid throwback snap on Instagram.
Sharing a photo of her 'wobbly tum' and 'greasy hair', the mum-of-one said: 'This was me a few hours after baby Cooper was born.... Greasy Hair, prickly legs, very sore bits, big pants & one very empty wobbly tum....
'But I wouldn't change a thing. Do I miss my pre-pregnancy bod?... Abso-blummin-lutely (& that's fine) Will I try my hardest *when fully recovered & ready* to get said body back??? Hell Yes! (which is also totally fine) But do u know what... if things are never quite the same again then I'm cool with that.'
She added: 'My body pushed that little person out!! Well done body, I'm super proud of you #mummy #babycooper #postpartumbody #mamayougotthis #postbabybody #fitnessmotivation And yup, I posted this during a 2:30am feed, with one eye open & milky boobs Multitasking at its finest!! #multitaskingmummy'.
Fans immediately reassured the new mum that she still 'looks beautiful', with one commenting: 'What an inspiration you are! Amazing post - thank you for sharing'.
Another said: 'You look really beautiful. Sometimes we struggle to see that, but you look stunning.'
A third added: 'Thank you so much for sharing this. No one ever really tells you the reality.'
While a fourth said: 'Beautiful and true - an inspiring message and a reflection of you! Congrats on the safe arrival of your son and sending you lots of love at this special time x'.