Can grandparents see their grandchildren now and help with childcare?
It's been months since grandparents have been able to see loved ones...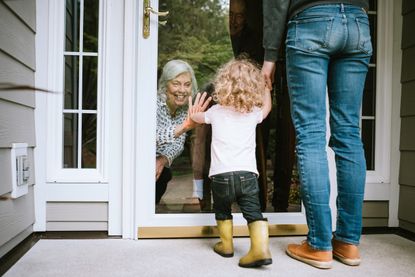 Goodto Newsletter
Parenting advice, hot topics, best buys and family finance tips delivered straight to your inbox.
Thank you for signing up to GoodTo. You will receive a verification email shortly.
There was a problem. Please refresh the page and try again.
Boris Johnson announced the country's roadmap out of lockdown yesterday, which has since prompted questions about family reunions and whether grandparents can see their grandchildren.
The separation between families has been the hardest part of the UK's various lockdowns with relatives eager to reunite and hug loved ones.
Some have been able to form a support bubble or walk with one non-household member under current lockdown exercise rules. Whilst others haven't been as lucky - being unable to travel outside of their local area under the UK's third lockdown rules.
Change is on the horizon though with two households legally able to mix outside from 29 March 2020.
However, until this date grandparents should continue to follow the current restrictions in place...
Can grandparents see their grandchildren now?
At the moment in England, grandparents can only see their grandchildren under certain conditions such as if they are part of their household, support bubble or if they are helping with childcare under the childcare bubble eligibility rules.
Each of these are different and unfortunately, none of them allow for grandparents (who don't live by themselves) to visit their grandchildren socially or stay over. There are also restrictions on travel under the lockdown.
To be in the same household, you must live together. To be in a support bubble, a grandparent must live by themselves and the family members they are bubbling with must agree not to bubble with anyone else to avoid any chance of cross-household transmission.
As of late last year, grandparents are able to form a bubble with a household which includes a child who is under the age of one or was under that age on 2 December 2020. There are also other rules that allow a grandparent to form a support bubble with a household that has a child with disabilities.
To create a childcare bubble, a concept that only came into place in December, grandparents must be joining a household where they are providing informal childcare to someone under the age of 14. The grandparent/s offering childcare can live with one other person or more in this arrangement and they can look after grandchildren in either their home or the child's home, or outside in a public space.
Overnight care is included, meaning that grandparents can stay over with their grandchildren if they are part of the childcare bubble. However, government guidance expressly says that this must be for childcare only and no other reason.
Under the new lockdown rules, it's also now not allowed to meet people you don't live with for social reasons. If grandparents want to see their grandchildren outside of the household, support bubble or childcare bubble arrangements, the lockdown exercise rules now unfortunately only allow for exercise with one other person. This means that one grandparent could go for a walk, run or cycle with one grandchild.
In Scotland, grandparents can visit their grandchildren if they live alone as they can form an 'extended household'. Apart from this, those in the highest level 4 restrictions will only be able to visit their grandchildren if it's for strictly essential childcare. In this case, grandparents aren't allowed to visit their grandchild's home but rather, the grandchild must move between the households without any contact being made with other people.
The rules are similar in Wales but as informal childcare should only be offered when no other methods, such as childcare services with increased hygiene regulations, cannot happen. If this is the case, then grandparents can look after their grandchildren but any other adults should not enter their home at drop-off or pick-up. Much like in other places, in Wales any grandparent living alone can form a support bubble (otherwise known as an extended household) with their family. This could allow for a grandparent to see their grandchildren.
In Northern Ireland, support bubbles are in place to allow for single grandparents to meet with members of their family who all live together in one household. Similarly, informal childcare can be offered with limited contact with other members of the child's household, including parents.
However it is important to note though that, although these rules are in place to allow for support and childcare, shielding has also been re-instated due to the increased level of risk. This means that clinically vulnerable people are being told to take extra precautions and to stay at home at all times, except for medical appointments and daily exercise. The government has drawn up a list of those included in this extremely vulnerable category and it is based around risk from the virus, but elderly people have been told to socially distance wherever possible.
Can grandparents look after grandchildren?
Yes, if grandparents have grandchildren under the age of 14 then they can create a childcare bubble with the household.
This new rule came into effect in England from 2 December 2020 and has been a vital lifeline for parents forced to work from home and look after children at the same time during the first lockdown.
Within this new rule, the grandparent\s providing the childcare don't have to live by themselves, but they should limit contact with other people as much as possible for their own health.
In Scotland and Northern Ireland, Grandparents can also look after grandchildren for childcare purposes. This includes those living in Level 4 - the highest protection level - in Scotland.
Whilst in Wales, grandparents looking after their grandchildren is only acceptable if other professional childcare solutions are not an option.
Can grandparents hug their grandchildren now?
Hugging hasn't been on the cards during the pandemic, as close contact and lack of social distancing is a sure fire way to spread the virus. However, if a grandparent is in a support bubble with their grandchildren, they don't have to socially distance and can hug anyone in that household. Similarly, children don't have to socially distance from anyone in their childcare bubble so in this circumstance it's also allowed.
If a grandparent is seeing their grandchild outdoors for exercise, as is the only way the government permits household mixing, then they should not hug them as social distancing is expected. Under no circumstances should a grandchild from another household, who is not in a support bubble or childcare bubble, hug their grandparent.
Social distancing is naturally hugely difficult for grandparents and their grandchildren alike and it marks just one of the huge changes families have had to go through in the last year, but due to the ever-rising number of coronavirus infections, it's essential for the health of everyone.
Can grandparents be visited at home?
If a grandparent is in their grandchild's childcare or support bubble, they can be visited at their home. In Scotland, Wales and Northern Ireland, however, it's been specified that when grandchildren are being picked up or dropped off, the parent or carer must not go inside or make contact with the grandparent. It's for essential purposes only, so contact should be kept to a minimum under the new government guidelines.
Kids and parents could consider a socially distanced visit to see their grandparents by using their permitted daily walk to stop by their doorstep (if they are local). In order to do this, grandparents should remain in their house behind a door or window and chat to their relatives from a safe 2-metre distance.
Can grandchildren stay with grandparents?
As with the other conditions in England, if a grandparent is part of a support or childcare bubble with their grandchild, then they can stay overnight.
However in Scotland, Wales and Northern Ireland, the child must go to the grandparent's home rather than the grandparent coming into the child's home. This is to prevent mixing with other members of the household.
But even when it's legally allowed, the rules state that the public should use 'common sense' when it comes to shielding vulnerable members of the family. Those shielding appear to be encouraged by the government to make their own risk assessment.
Parenting advice, hot topics, best buys and family finance tips delivered straight to your inbox.
Amy is Senior Digital Writer across Woman & Home, GoodTo and Woman, writing about everything from celebrity news to health, fashion and beauty features. When she isn't obsessing over the latest dress drop from Marks & Spencer, you'll most likely find Amy out running, or with a cup of tea in hand ready to dive into a gripping new Netflix series.