UK lockdown: Everything we know about the third set of government restrictions
Will there be a January lockdown? This is everything we know about the potential for a lockdown in the new year after restrictions are eased for Christmas.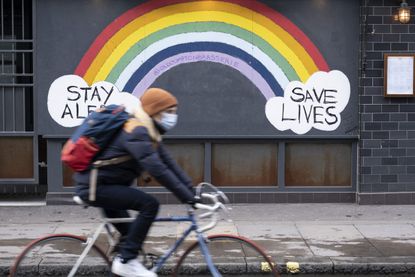 The third UK lockdown is here to stay for a while, with a big question mark hanging over when the restrictions will be eventually lifted.
It officially began on January 6, with the general 'stay at home' order already in place two days before. Strict exercise rules for lockdown (opens in new tab) were put in place almost immediately, with schools closed for the second time and exams cancelled for 2021 (opens in new tab). Any kind of social mixing, either indoors or outdoors, was quickly prohibited.
Later on in January, with new Covid-19 variants (opens in new tab) emerging from both the UK and elsewhere in the world, the government put severe travel restrictions (opens in new tab) in place. This meant that non-essential travel was totally banned, with flights coming in from South Africa and many South American countries stopped.
This is what you need to know about the third UK lockdown...
Third UK lockdown: What are the rules?
Everyone has been told not "leave, or be outside of your home except where necessary". This is much like the first set of lockdown rules in March last year, but there are some differences this time around...
Stay at home at all times, wherever possible.
We're back to spending our days inside, nut there are some conditions in which you are allowed to leave the house, if needed:
To go to work if you cannot work from home (such as keyworkers, those in construction, etc)
To shop for basic necessities such as food or medical supplies
For exercise under lockdown restrictions, only once per day
To meet your support bubble (opens in new tab) or childcare bubble, if necessary
To seek medical assistance or avoid injury, illness or risk of harm
This includes children, as schools are closed and homeschooling is compulsory (opens in new tab) this time around. Only vulnerable children and the children of key workers are allowed.
As schools and colleges are closed and all learning taken online, only vulnerable children and children of key workers are allowed to travel outside the home for education. They will still be allowed to attend school if needed. Nurseries are allowed to stay open to provide essential childcare and childminders can continue to work (opens in new tab).
There are also new lockdown rules on travel, similar to that of the November lockdown, where travel is strongly advised against. Also from now on, the UK will also not be accepting arrivals from other countries if they don't have a negative coronavirus test.
You're not allowed to meet others from outside your household (or support bubble).
Any kind of social mixing with people that you don't live with or aren't in a support bubble, or childcare bubble with, is not allowed either inside or outside.
Although, you can meet for exercise with one other person from outside your household if you keep at a 2 metre distance at all times. You also must stay local for all exercise (opens in new tab) and remain around the area that you live. All team sports events are off the table, however, with golf courses and outdoor swimming pools closed.
All retail and hospitality venues must close
For the foreseeable, going out to a restaurant to the pub, staying in a hotel and going shopping are all off the table. This is because...
Non-essential retail must close (including: clothing and homeware stores, car showrooms, betting shops, tailors, tobacco and vape shops, electronic goods and mobile phone shops, auction houses, and market stalls selling non-essential goods).
Hospitality venues such as cafes, restaurants, pubs, bars and social clubs have to close.
Overnight accommodation (such as hotels, hostels, guest houses and campsites) have to stop service, unless they act as someone's main residence or where someone cannot return home, or if it provides accommodation to someone experiencing homelessness.
Leisure and sports facilities are closed (including leisure centres and gyms, swimming pools, sports courts, golf courses, fitness and dance studios).
Entertainment venues (such as theatres, concert halls, cinemas, museums and galleries, casinos, amusement arcades, bingo halls, bowling alleys) are being forced to close
However, click-and-collect services will still be available for those wanting to shop online and collect their purchases from non-essential stores. Equally, hotels and other overnight accommodation venues may stay open for work purposes if necessary.
Personal care services have to close
This means that hairdressers and barbers, beauty services, tanning and nail salons, tattoo parlours, spas and all other similar close-contact personal care services have to stop. The government has also advised that these services are not allowed to continue in people's homes during the third lockdown.
When will restrictions be lifted?
Lockdown measures will stay in place until at least March 8, Prime Minister Boris John has confirmed as he announced the roadmap out of lockdown (opens in new tab). This is also the date that kids could go back to school after lockdown (opens in new tab), if there is enough evidence to show that lockdown is working (opens in new tab).
Speaking to the House of Commons on January 27, he said, "If we achieve our target of vaccinating everyone in the four most vulnerable groups with their first dose by 15 February – and every passing day sees more progress towards that goal – then those groups will have developed immunity from the virus by about three weeks later, that is by 8 March.
"We hope it will therefore be safe to commence the reopening of schools from Monday 8 March, with other economic and social restrictions being removed thereafter as and when the data permits – then or thereafter."
He added that the government will publish their "plan for taking the country out of lockdown" during the week beginning February 22.
It looks promising for the moment, as new research from Oxford University has revealed that the vaccine offers protection of 76% up to 12 weeks after a single dose.
Currently, well over nine million people have received their first dose of the vaccine. This includes offering the vaccine to everyone in a care home in England.
Will lockdown be extended?
Legislation on England's lockdown restrictions lasts until March 31, which means that lockdown could be extended until this date. So if the government think it's necessary, the restrictions could end in early April instead. It all banks on the rollout Pfizer vaccine (opens in new tab) and Oxford vaccine (opens in new tab) continuing to be a big success and more priority groups being vaccinated.
With furlough extended until March 2021 (opens in new tab), many experts made their predictions that the lockdown would last into the Spring last year.
However, at the moment we just have to wait and see what the government says. There currently any promises about when and how lockdown will end, as the "phased" ending of lockdown is set to be announced later this month.
Will schools reopen when this lockdown ends?
According to the Prime Minister, schools are set to open from March 8 at the moment. It's on this date or slightly after that the government hopes they will able to lift some of the "other economic and social restrictions".
We're likely going to get more information on this during the next lockdown review (opens in new tab), however, which is set for late February.
Who needs to shield in the third UK lockdown?
The government is now advising anyone who previously shielded during the first lockdown to now do so again in the third UK lockdown.
This includes anyone who is categorised as 'clinically extremely vulnerable' with one of the following conditions:
Anyone who is a solid organ transplant recipient
Anyone with certain cancers and undergoing particular treatments, including all those undergoing active chemotherapy and on immunosuppressant drugs.
People with severe respiratory conditions, such as cystic fibrosis, severe asthma and severe chronic obstructive pulmonary disease.
Anyone with a rare disease that significantly raises their risk of infection.
People on immunosuppression therapies sufficient to significantly increase risk of infection
Anyone who has problems with their spleen or who has had it removed.
Adults with Down's syndrome.
Adults on dialysis or with chronic (stage 5) kidney disease.
Women who have significant heart disease, either congenital or acquired, who are also pregnant.
According to the prime minister's announcement on Monday, anyone deemed to also be on this list, based on clinical judgement and an assessment of their needs, will be contacted via letter in the coming days with further instructions.
What shops are open in the third UK lockdown?
Much like the shops open during the November lockdown (opens in new tab), it's only essential stores that will be able to stay open during the third lockdown. This means that supermarkets, pharmacies and other similar shops will be able to open their doors for online and in-store shopping, while clothing and all other non-essential shops will have to close. However, they will be able to stay open for click-and-collect services only.
These are the shops and services that are still open during lockdown:
Supermarkets
Pharmacies
Building merchants and suppliers of building products and off-licences
Market stalls selling essential goods, such as food
Businesses providing repair services, but only if they mainly offer repair services
Petrol stations
Garden centres
Automatic (but not hand) car washes
Vehicle repair and MOT services
Bike shops and repair services
Taxi and vehicle hire businesses
Banks and building societies
Post offices
Funeral directors
Crematoriums and burial grounds
Laundrettes and dry cleaners
Medical and dental services
Vets and pet shops
Animal rescue centres and animal groomers
Agricultural supplies shops
Mobility and disability support shops
Storage and distribution facilities
Car parks
Public toilets
Motorway services
Outdoor playgrounds
Outdoor parts of botanical gardens and heritage sites for exercise
Places of worship, with social distancing conditions in place
Are hotels open during lockdown?
Hotels are open in the third UK lockdown but only for particular reasons, such as strictly essential travel. They're allowed to accommodate people who normally live in the property or those who are mid-way through moving house. They can also stay open for people who would otherwise be homeless.
They're also set for use by the government during the third lockdown to quarantine those coming back from 'high-risk' countries, including South Africa. While no date has been set for this system to kick off, the health secretary has confirmed that there is "strong" action at the border to prevent new variants from entering the country.
Is the post office open during lockdown?
The post office is open during the January to February lockdown. In a statement on their website, Royal Mail has confirmed, "Throughout the pandemic, and now, we remain open for business. The delivery of parcels and letters is a way of keeping the country together, businesses operating, and helping many people who may not have the option to leave their home.
"To manage the effects of Coronavirus-related absences and necessary social distancing measures such as reducing the number of people together in shared spaces and vehicles, we have implemented a range of mitigations. These include changing the time guarantee on Special Delivery and opening hours of Customer Service Points at local delivery offices."
The Post Office has also emphasised the need for social distancing when visiting the shop and to wear a mask at all times. To combat waiting times and ensure social distancing, Royal Mail has suggested that where possible, customers use parcel postboxes (opens in new tab).
Are dry cleaners and laundrettes open in lockdown?
Much like the November lockdown, dry cleaners and laundrettes have been allowed to stay open during the national January lockdown.
Dubbed as an "essential" business due to the clothes cleaning service, it's also thought that dry cleaners have been allowed to stay open for this third lockdown due to the capabilities for social distancing with limited numbers of people in stores.
Can you move house during the third UK lockdown?
Anyone looking to move house over the next few months can continue to do so, under certain conditions.
To move home during lockdown, people outside of your household or support bubble shouldn't help you move house unless it's absolutely necessary. However, estate agents and removal firms can continue to work and help to facilitate house moves, including offering viewings.
Naturally, national guidance applies in all circumstance when moving home. For example, you should socially distance from those you don't live with/not in a support bubble with and wear a face covering where it's not possible.
Where did the idea of a third UK lockdown come from?
The idea of a January lockdown first came from Dr Susan Hopkins, the medical director of Test and Trace. She said that for every day the rules were relaxed over the Christmas holidays, two more under more severe restrictions may be needed to crack down on the spread of the virus.
Public Health England (PHE) later confirmed that Dr Hopkins had in fact "misspoke" and actually, for every day of relaxation there would need to be five days of tighter measures.
However, it would be some weeks before the government confirmed that England and other areas of the UK would be headed into a January lockdown, lasting through until the middle of February.
Grace Walsh is a Features Writer for Goodto.com, covering breaking news health stories during the Covid-19 pandemic as well as lifestyle and entertainment topics. She has worked in media since graduating from the University of Warwick in 2019 with a degree in Classical Civilisation and a year spent abroad in Italy. It was here that Grace caught the bug for journalism, after becoming involved in the university's student newspaper and radio station.