The clever hack for removing breast milk and blood stains from your bra
Have you tried this hack?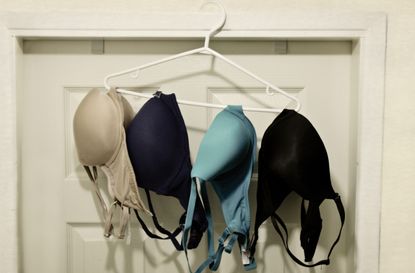 If you've ever been faced with a breast milk stained bra and have tried everything you can think of, you need to try this clever hack using a household item you've probably already got in the cupboard.
Breastfeeding your baby can result in lots of unexpected situations. Even if you've read the advice books, and your friends and family have told you all they know, can anything ever really prepare you for the pain of mastitis?
How about the moment you leak through your bra and top in public? We think not...
It's best to just face the fact that you're going to have the odd leakage or two, but thanks to this clever hack you don't have to worry about any long-lasting stains which look a little ugly and don't smell great either!
Speaking to Romper, a dry cleaner named Jin, who works in Brooklyn, New York, revealed it's vital to act quickly when tackling breast milk stains.
He advises rinsing clothes as soon as you spot the leakage, as this will prevent it setting and stop a smell developing. If the stain is slightly yellow in colour or feels a little greasy, Jin recommends a drop of shampoo that has sulfates in it. Work this into the fabric and then wash as normal.
For your bras, Jin suggests soaking it in some delicate detergent mixed with water for an hour or so. He also recommends washing your lingerie by hand and soaking before washing it again as normal.
If there is blood in your milk stain, Jin has advice too! It involves using white wine vinegar or even a little cheap vodka if you've got it lying around.
Jin explains: 'If it is bright red blood, you need to use an acid like an aerosol stain treater or ammonia to get it out. You can't use either of these on delicate fabrics, so try spraying it with one part white wine vinegar to one part water, or dunking the area in straight cheap white wine or vodka —which has alcohol, sugar, and acid — and can break up the stain. Then treat with a drop or two of dish soap and hot water before laundering normally.'
If the stain is still there after the first wash, Jin says to spray it with hairspray, let is sit for hour and then re-wash it.
Do you have any clever hacks for removing breastmilk stains? We'd love to hear your ideas so join the conversation over on our Facebook page!
Jessica currently works as a Senior Food Writer at Future. She writes food and drink-related news stories and features, curates product pages, tests, and reviews equipment, and also develops recipes that she styles on food shoots. An enthusiastic, self-taught cook Jess adores eating out and sharing great food and drink with friends and family. She has completed the Level 1 Associate course at the Academy of Cheese and is continually building on her knowledge of beers, wines, and spirits.