We earn a commission for products purchased through some links in this article.
A little girl who lost all four of her limbs to meningitis has bought her first pair of shoes after getting her prosthetic legs.
Harmonie-Rose, who turns 2 in November, is learning to walk again after contracting Meningitis B at 10 months old.
Do you know the symptoms of meningitis to look out for?
The toddler chose her first pair of shoes, purple buckle-ups from Clarks, to perfectly match her Peppa Pig patterned prosthetic legs.
On the Facebook page, Hope For Harmonie, mum Freya Hall posted a video of Harmonie with her new purchase; 'Ever since Harmonie started speaking and asking questions like who's that or what's that, she always asks who's shoes are by the door or lying around or after picking them up.'
'Finally today we could tell her they were her shoes. As you can see she was so happy!!'
[Facebook]https://www.facebook.com/HopeForHarmonie/videos/vb.884675634883826/1106442676040453/?type=2&theater[/facebook]
At the beginning of October the Bristolian family received the prosthetic legs, and despite Harmonie having no feet, they headed to the Clarks store at Cribbs Causeway to pick out shoes.
'It was a bit strange when we walked into a kids' shoe shop and we did have a few looks as people could see she had no feet,' they explained.
Posting pictures of the quadruple amputee, she can be seen choosing from a selection of girly shoes, finally settling on a purple pair complete with a co-ordinating flowery bow.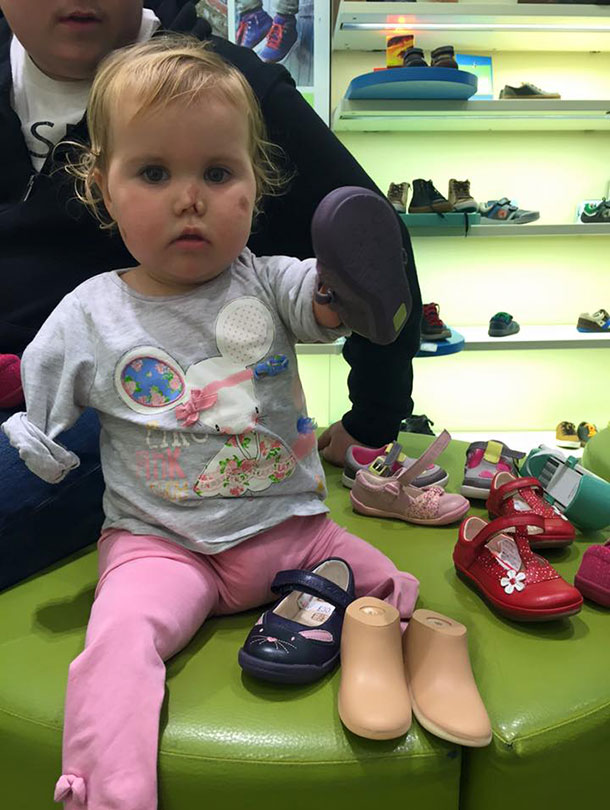 Harmonie was born a normal little girl, hitting all her milestones at the right time but without warning at ten months old she was tragically struck down by the deadly disease Meningitis B.
In another video on their page, which has almost 18,000 likes, her parents explain how they put her to bed at 7pm and by 10pm they had taken her to hospital with severe coughing and wheezing.
Doctors gave Harmonie just a 10% chance of survival as a black rash engulfed her entire body.
However the 'little princess' defied all the odds to survive and make remarkable progress, which has seen her learning to walk again, standing in a walking frame and driving her own motorized 'wizzy' wheelchair, which is painted as a ladybird.
Through the Facebook page, Harmonie's parents recieve donations to go towards the cost of her care and are raising awareness of the impact of Meningitis.
'Believe me I never thought this would happen to my daughter, she was so well and healthy, you always think it wont happen to me. But it does, it happens to anyone.'
'Meningioccal septicemia doesn't care who it hits or who it affects, it hurts and it hurts real hard.'