Harper Beckham enjoyed a lavish birthday party but her favourite gift is very affordable!
Harper's favourite gift is very, very affordable!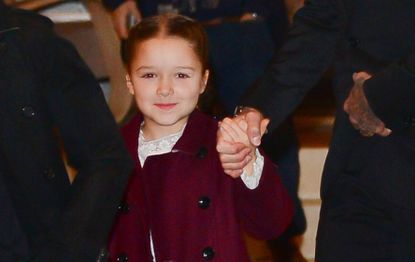 Harper Beckham turned seven yesterday (10 July) and was treated to a very fancy day of birthday celebrations. Despite all the luxury, the little girl's favourite present can be picked up on the high street for as little as £1!
Harper Beckham celebrated her seventh birthday yesterday and in true Beckham style she had a party any adult would envy!
Mum and dad Victoria and David pulled out all the stops to make sure their little girl felt truly special.
Harper's birthday celebrations included pony rides, and epic afternoon tea party as well as a personalised unicorn birthday cake!
Victoria documented much of the day on her Instagram stories, posting pictures and videos of Harper looking in her element as she sat on the pony with glittery pink and purple hearts printed on its side.
She also revealed that out of everything, Harper's favourite present was her Squishie collection. The foam toys are the latest craze to come over from Japan and feature tiny little characters which you can collect.
The Squishies can be purchased from the likes of Amazon, Argos and The Works and prices vary from as little as £1 for an individual Squishe to £9.99 for a collection of 15.
Victoria posted a picture of Harper's booming collection on her Instagram story and said: 'The Squishies were a big success!! Harper's favourite'.
Big brother Brooklyn also posted a picture on his Instagram of what looks like another of Harper's birthday gifts. The picture shows what must be Harper's tiny feet in some pink and white roller skates.
Romeo also posted a sweet message to his little sister. He wrote: 'I can't believe you are 7 now Harper !! Such a big girl ❤ we all love u so so much I couldn't ask for a better sister !! Love u so so much hope you have a lovely day ❤.'
Dad David marked his only daughter's birthday with a selfie of the two and the caption: 'What can I say about my little princess other than she is perfect in every possible way. Harper Seven has turned 7. Happy birthday to my big girl!!
'This little one is so loved by her brothers, mummy and daddy...special, special little girl ♥️ Makes me smile every single day ♥️'.
Victoria posted a similar message alongside a picture of her with Harper and Romeo. She wrote: 'Happy Birthday baby girl x We love u so so much x so many kisses!!! X Mummy,Daddy,Brooklyn, Romeo and Cruzie x'.
It certainly looks as though Harper had a brilliant day and perhaps her celebrations will continue into the weekend!
Jessica currently works as a Senior Food Writer at Future. She writes food and drink-related news stories and features, curates product pages, tests, and reviews equipment, and also develops recipes that she styles on food shoots. An enthusiastic, self-taught cook Jess adores eating out and sharing great food and drink with friends and family. She has completed the Level 1 Associate course at the Academy of Cheese and is continually building on her knowledge of beers, wines, and spirits.