Harry Judd reveals how the battle to conceive with wife Izzy almost cost him his marriage
'God, we haven't even had a kid and already I'm sick of this'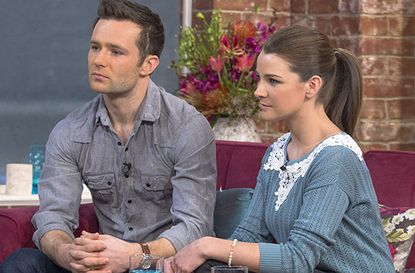 GoodTo newsletter
Sign up to the GoodTo Newsletter. You can unsubscribe at any time. For more information about how to do this, and how we hold your data, please see our privacy policy
Thank you for signing up to . You will receive a verification email shortly.
There was a problem. Please refresh the page and try again.
Harry Judd has opened up about the impact that fertility (opens in new tab) struggles had on his marriage to wife Izzy.
The McFly star, 31, tied the know with author Izzy back in 2012, and the pair were keen to start a family.
However, speaking to The Sun's Fabulous magazine, Harry revealed the difficulties they began facing when his wife was diagnosed with polycystic ovaries (opens in new tab), and the pressure the battle to conceive put on their relationship.
'Izzy so desperately wanted to be a mother and so as soon as we realised there was a problem, it took over her life,' he explained.
'The dynamic changed because all the focus was on getting pregnant and in a way I lost her a little bit. I lost that smiley, confident, beautiful wife.'
'Our wedding had been the happiest day of our lives – cut to a year later and she's in absolute despair. I remember after two years thinking: "God, we haven't even had a kid and already I'm sick of this." It was constant but I felt I couldn't get frustrated at her.'
Izzy got pregnant through IVF back in 2014, but sadly suffered a miscarriage (opens in new tab) at seven weeks. Two years after the sad loss, the pair welcomed their first child, a daughter named Lola Rose.
'Izzy is my hero and I love my girls,' Harry told fans at the time of announcing Lola's birth.
In August 2017, they added to their family again with the arrival of their son Kit (opens in new tab), who the couple describe as a 'miracle', as he was conceived naturally.
Izzy, who has penned a book, Dare to Dream, about their experience, said previously of announcing her pregnancy with her son: 'It was a complete shock and it was whilst I was writing Dare to Dream and I thought, "My goodness, how am I going to announce this pregnancy?". I just hoped that it would give other couples hope.'
'People used to say to me, "Oh you'll probably fall pregnant naturally next time," but I never thought that we would be that couple, so it was a complete shock - but a wonderful one.'