Harry Potter names: The most magical baby naming trend yet
J.K. Rowling has had a big influence on the baby name world...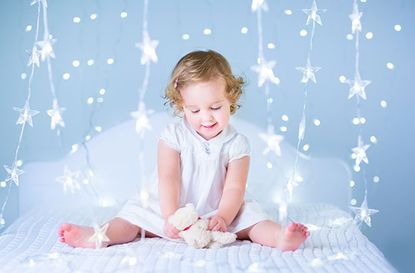 Goodto Newsletter
Parenting advice, hot topics, best buys and family finance tips delivered straight to your inbox.
Thank you for signing up to GoodTo. You will receive a verification email shortly.
There was a problem. Please refresh the page and try again.
Harry Potter names are the latest trend in baby names. From Harry to Cedric, we've rounded up some of the most popular Harry Potter baby names...
Research from baby website MooseRoots shows that the names of many of the main characters from the book and film franchise have risen in popularity over the last decade, with names as traditional as Ron and as quirky as Bellatrix zooming up the charts.
The quickest rising choices were Harry and Hermione, with the name Harry starting to spike in the late 1990s, around the time of the first book release. However, as Harry is a fairly common name in most Western countries, this could be a reflection of general trends, rather than a direct correlation to the series.
The growth of more unusual Hermione, however, is likely to be attributed to the series - in 2001, for instance it was the 15,344th most popular girls' name in the United States, but by 2003, when Harry Potter had become even more of a household name, it had surged to the 2,671st most popular name in America. The names Lily, Harry's mother, and Luna, his schoolfriend, have also experienced comparable growth.
The names Harry and Hermione have gained huge popularity since the release of the books
Even some of the more niche Harry Potter names have been chosen by new parents who love the magical world. There were 24 baby Sirius' born in 2014, and even Lucius, the father of Harry's nemesis Draco Malfoy, has become more popular since 2001.
Want to choose a Harry Potter name for your baby? Here's some more unique inspiration from some of the best (and baddest!) characters from J.K. Rowling's world...
Albus
Who? Hogwarts headmaster Albus Dumbledore, one of the cleverest and most powerful wizards of all time. Meaning: Latin, white, bright
Lavender
Who? A Hogwarts student who falls for Harry's best friend Ron. Meaning: English, plant name or colour
Percy
Who? One of the eldest children from the Weasley family. You could also go for Bill, Ron, Fred, or George, the names of his brothers. Meaning: English, pierces the valley
Ginny
Who? The only Weasley daughter, who (spoiler alert!) marries protagonist Harry at the very end of the tale. Meaning: Latin, virginal
Fleur
Who? A French contestant in the Triwizard tournament in the fourth instalment, who eventually wins the heart of Bill Weasley. Meaning: French, flower
Cedric
Who? Proud Hufflepuff, and Hogwarts' entry into the same tournament, although he meets a much sadder end. Meaning: English, bounty
Kingsley
Who? An Auror with the Ministry of Magic, and eventual Minister of Magic. Meaning: English, king's meadow
Draco
Who? Slytherin and Harry's arch-nemesis throughout his schooling. Meaning: Greek, dragon
Narcissa
Who? Draco's mother, and sister of Death Eater Bellatrix. Meaning: Greek, daffodil
Neville
Who? Harry's bumbling but well-meaning pal, and to those who've read book seven, a true hero. Meaning: French, new village
Minerva
Who? The first name of Gryffindor head of house McGonagall and Transfiguration professor. Meaning: Latin, to remember
Seamus
Who? Harry's fellow Gryffindor - not great at spells, but full of heart. Meaning: Celtic, version of James
Godric
Who? A wizard of Medieval times, and the founder of Gryffindor house. Meaning: Anglo-Saxon, rules with God
Helena
Who? Another founder, in this instance of Ravenclaw. Meaning: Greek, bright light
Parenting advice, hot topics, best buys and family finance tips delivered straight to your inbox.
Trusted, informative, and empathetic – GoodTo is the ultimate online destination for mums. Established in 2007, our 15-year-strong archive of content includes more than 18,000 articles, 1,500 how-to videos, and 7,000 recipes.