Argos issues recall warning for high chairs because legs are breaking off
Parents have been urged to return a luxury high chair over safety fears for babies.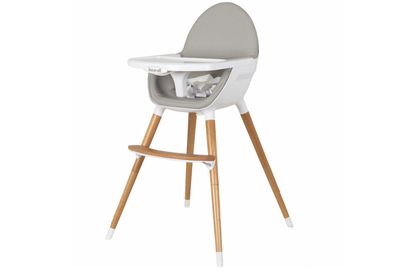 Parents are being urged to return a high chair over safety fears for babies.
Manufacturers Koo-di are recalling their Duo Wooden Highchair immediately because the legs keep breaking off when a child is sitting it in, which can cause danger to the child.
The plastic at the point where the back leg screws in to the base of the plastic seat can crack, causing the leg to potentially break off. The product is currently on sale in Argos for £79.99, and in luxury retailer Jojo Maman Bébé for £129.
There have been four reported incidents of legs snapping off, although it is unclear if any children were hurt.
If you're worried about a high chair you've recently bought, the affected batches were sold between July 2017 and April 2018 and have the code KD430/02-3AH-SS. You can find the code on the label on the bottom of the chair.
Customers with affected chairs are asked to call 01384298531 to speak to the manufacturers and discover if the chair is faulty.
If it is faulty, a member of the team will provide more information on how you can get a refund or an exchange.
This is the only wooden high chair made by the manufacturer that's affected. Koo-di said: 'We thank you for your co-operation and apologise for any inconvenience caused'.
Earlier this week, the Venture Three Stage Mini Booster Sea was also recalled because it poses serious risk, thanks to an 'inadequate' locking system and dangerous plastic packaging.
The seat is for children aged between six and 36 months, and can take a maximum weight of 15kg. It is designed to be fitted to a chair.
The warning has been issued by the European Commission because it didn't meet the required standards.
Only one batch of the booster seat is affected. The code on these models is 50700461909323 and you can find it on the barcode.
A Freelance Writer and Content Editor, Jenni has been working on the women's lifestyle team at TI-Media on and off for over three years. She writes about your favourite celebrities and TV shows so you never miss an update. Jenni also writes beauty news and features - so for all of your skincare and make-up needs, drop her a line.