We earn a commission for products purchased through some links in this article.
Holly Willoughby was caught on camera admitting she misses her baby bump and 'wants' one in the latest episode of Sam Faiers' hit TV show Mummy Diaries.
In the second episode of the third season, which aired last night, the cameras followed Sam and her partner Paul as they hit the red carpet for the annual ITV Gala last year.
Just weeks before her due date, Sam is seen turning heads in a stunning pink gown that really showed off her baby bump. Seeing the former TOWIE star arrive at the event, a broody Holly Willoughby can't help but go over to Sam and reveal that seeing the expecting mum makes her wish she could have another baby bump.
A very pregnant Sam and Paul on the red carpet at the ITV Gala last year
'You look gorgeous!' Holly exclaimed on seeing a glowing Sam at nine months pregnant on the red carpet.
'I want a bump! I want a bump…' a broody Holly then crooned as she gave Sam a kiss.
'Anymore for you?' Sam asked the This Morning presenter, to which Holly is seen replying, 'I don't think so. Three's a good number.' So it seems there won't be any more babies for the TV presenter after all – even if she does occasionally get pregnancy bump-envy!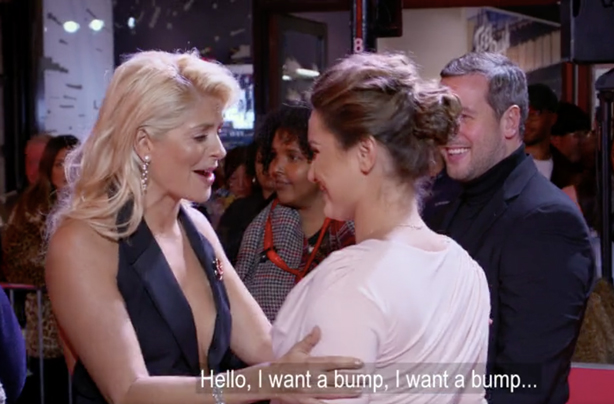 Holly and Sam chat on the red carpet at the ITV Gala in the latest episode of the Mummy Diaries on ITVBe
Although Sam initially reveals to Holly that she and Paul have spoken about having as many as four children together, after the birth of Rosie, the 27-year-old finds herself reconsidering.
'She [Holly] said 'see how you feel after you have three' – I see what she means now' Sam muses in the latest episode of Mummy Diaries after feeling emotional about the delicate balance she will have to strike to give both of her two children equal amounts of her attention.
'I don't know if I could cope' she admits. 'Not with having five [children], it's just the emotion – I couldn't have them missing out on anything' the star said while cradling a newborn baby Rosie, who was just three days old when the episode was filmed.