How can you support your child on A-level exam results day? We asked a careers advisor
Expert tips from a careers advisor on how parents can support young people on exam results day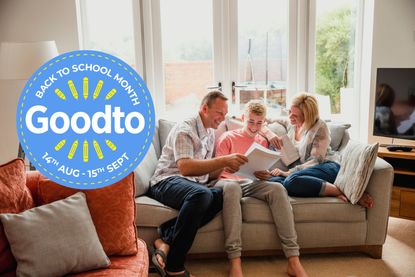 (Image credit: Getty Images)
As exam results day looms for thousands of A-level and T Level students across the country, who better to share their top tips on how parents can support young people awaiting exam results than a careers adviser...
One minute you're approaching September on a quest for the best school shoes and back-to-school supplies, and the next the kids are all grown up and awaiting big exam results. As a parent, exam results day can be an anxious time, so it's important that young people and their families are aware of how best to prepare for the day, regardless of what may be in store.
With many young people believing that their plans post-16 hinge on their results, it's understandable that expectations are high, and a lot of nerves may be at play. However, don't let that distract you and your child from approaching results day with a positive mindset.
Here are my five tips to keep in mind on exam results day and in the lead-up to it:
1. Make a plan for the day
Find out your child's school, college, or sixth form's policy on collecting their results. Then discuss with your child what they want to do, and who they want to be with when they get their results. Avoid putting any unnecessary pressure on your child by letting them decide on their game plan and allowing them to stick to it - this can help to make the day feel less daunting.
2. Maximise online support
The internet allows direct access to key experts and speakers more than ever before. To help your child explore their options further, encourage them to take advantage of virtual advice including live Q&As such as the one taking place on the National Careers Service Instagram account on 21st August, to inform and inspire any choices they might make.
3. Seek advice from the experts
As you'll be aware, family and friends can often be emotionally invested in a young person's future, so it's a good idea to encourage your child to seek out neutral advice on the choices available to them.
Young people can get advice on exam results and careers from the National Careers Service by speaking to a careers adviser online or by web chat. The helpline is available on 0800 100 900 Monday-Friday from 8am to 8pm, and Saturdays 10am-5pm, beginning Thursday 17th August until Friday 1st September.
4. Make the most of the time before results
This is the perfect opportunity for your child to research their dream career, work on their CV, or even try some virtual work experience.
It is important to remember that there is often more than one route into most careers. Take some time to look at the pathway that might work best for your child or visit the National Careers Service website, which offers advice on the various choices at 16 and 18, as well as advice around writing a CV and prepping for interviews.
5. The most important thing is...
... not to panic.
Whether your child gets the results they expect or not, keep in mind that they have options. As a parent, the best thing you can do is to stay calm. Focus your energy on helping your child to make the most of the support that's out there for them as they figure out their next steps and make the most of the support that's there for them.
---
'Get the Jump' is part of the Department for Education's Skills for Life campaign and helps young people aged 14-19 explore their education and training choices, including T Levels, apprenticeships, and Higher Technical Qualifications. Visit Get the Jump to find out more.
Read our features on when is A-level exam results day and when is GCSE results day, to make sure you're prepared for exam results season.
Parenting advice, hot topics, best buys and family finance tips delivered straight to your inbox.