63 of the best International Women's Day quotes to celebrate and inspire this year
Inspiring quotes to shares with your friends, your family, and everyone else in your life this International Women's Day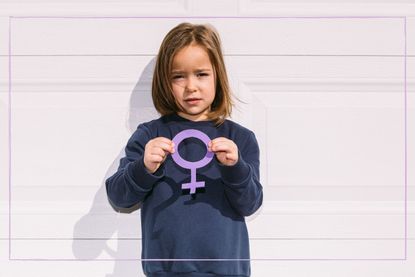 (Image credit: Getty Images)
These International Women's Day quotes are a great way to inspire and celebrate the important women in your life.
March 8th marks a very special day each year, as International Women's Day brings attention to gender equality, reproductive rights, and the rights of women, as well as celebrating the achievements of both famous women in history and inspirational women alive today. For the parents among us, it can be a great opportunity to educate kids on gender equality (opens in new tab), help raise a strong girl (opens in new tab), and pen letters to our sons on being the allies we need (opens in new tab).
As Stephanie Lowe (opens in new tab), Goodto's Family Editor says; "Remembering women from the past, supporting women in the present, and celebrating everything they did and are doing every day and especially on International Women's Day - it's so important. Until full gender equality is present we - at the very least - need these days to shine a light on all that we do. I am committed to raising my son in such a way that he knows how to recognize and support strong and empowered women."
To get involved with International Women's Day this year, you can attend a virtual event (opens in new tab), fundraise for a female-focused charity (opens in new tab) or take a look at these International Women's Day resources (opens in new tab).
Inspirational International Women's Day quotes
"I am thankful for my struggle because, without it, I wouldn't have stumbled across my strength." - Alex Elle
"If you don't see a clear path for what you want, sometimes you have to make it yourself." - Mindy Kaling
"They'll tell you you're too loud, that you need to wait your turn and ask the right people for permission. Do it anyway." - Alexandria Ocasio-Cortez
"Feminism isn't about making women strong. Women are already strong. It's about changing the way the world perceives that strength." - G.D. Anderson
"Women are the real architects of society." - Cher
"We realize the importance of our voice when we are silenced." - Malala Yousafzai
"Well-behaved women rarely make history." - Eleanor Roosevelt
"I am grateful to be a woman. I must have done something great in another life." - Maya Angelou
"There is no limit to what we, as women, can accomplish." - Michelle Obama
"Human rights are women's rights and women's rights are human rights." - Hillary Clinton
"We need to reshape our own perception of how we view ourselves. We have to step up as women and take the lead." - Beyoncé
"No woman should be told she can't make decisions about her own body. When women's rights are under attack, we fight back." - Kamala Harris
"A woman with a voice is, by definition, a strong woman." - Melinda Gates
"There's something so special about a woman who dominates in a man's world. It takes a certain grace, strength, intelligence, fearlessness and the nerve to never take no for an answer." - Rihanna
"I do not wish women to have power over men; but over themselves." - Mary Shelley
"There is no force more powerful than a woman determined to rise." - W.E.B. Dubois
"In our society, the women who break down barriers are those who ignore limits." - Arnold Schwarzenegger
International Women's Day quotes for kids
"My mother told me to be a lady. And for her, that meant be your own person, be independent." - Ruth Bader Ginsburg
"When girls are given the right tools to succeed, they can create incredible futures, not only for themselves but also for those around them." - Meghan Markle
"Life is tough, my darling, but so are you." - Stephanie Bennett-Henry
"You should never let your fears prevent you from doing what you know is right." - Aung San Suu Kyi
"Think like a queen. A queen is not afraid to fail. Failure is another stepping-stone to greatness." - Oprah
"A girl should be two things: Who and what she wants." - Coco Chanel
"Girls should never be afraid to be smart." - Emma Watson
"Sometimes it's the princess who kills the dragon and saves the prince." - Samuel Lowe
"If you have knowledge, let others light their candles in it." - Margaret Fuller
"You might think you're never going to be able to do something, but I want you to add the word 'yet' to that sentence." - Stella Creasey
"While I may be the first woman in this office, I won't be the last. Because every little girl watching tonight sees that this is a country of possibilities." - Kamala Harris
"Nothing has ever gotten in my way. They say, 'Wally, you're a girl, you can't do that.' I said, 'Guess what, doesn't matter what you are, you can still do it if you want to do it..." - Wally Funk
"I'm not a woman scientist, I'm a scientist and more than half my colleagues are women and we do the job." - Sarah Gilbert
"I don't really think about other people's opinions or expectations. The only ones I have are that of myself, to improve and get better." - Emma Raducanu
"The only one who can tell you 'you can't win' is you and you don't have to listen." - Jessica Ennis-Hill
"I have learned you are never too small to make a difference." - Greta Thunberg
"It doesn't matter what your background is or where you come from, if you have dreams and goals, that's all that matters." - Serena Williams
International Women's Day quotes for mothers
"If you want something said, ask a man; if you want something done, ask a woman." - Margaret Thatcher
"Here's to strong women: May we know them. May we be them. May we raise them." - Michelle Obama
"The most beautiful thing a woman can wear is confidence." - Blake Lively
"A man's got to do what a man's got to do. A woman must do what he can't." - Rhonda Hansome
"What we women need to do, instead of worrying about what we don't have is just love what we do have." - Cameron Diaz
"I don't think that loving yourself is a choice. I think that it's a decision that has to be made for survival." - Lizzo
"Believe in yourself and be proud of who you are. Don't let anyone tell you differently. There is beauty in everyone and no one should stop you from growing into a confident and strong young person." - June Sarpong
"To me, leadership is not about necessarily being the loudest in the room, but instead being the bridge, or the thing that is missing in the discussion and trying to build a consensus from there." - Jacinda Ardern
"I don't go by the rule book ... I lead from the heart, not the head." - Princess Diana
"Be happy in the moment, that's enough. Each moment is all we need, not more." - Mother Theresa
"Women had always fought for men, and for their children. Now they were ready to fight for their own human rights." - Emmeline Pankhurst
"You can take no credit for beauty at sixteen. But if you are beautiful at sixty, it will be your soul's own doing." - Dr Marie Stopes
International Women's Day quotes for friends
"Always be a first-rate version of yourself instead of a second-rate version of somebody else." - Judy Garland
"Where there is a woman, there is magic." - Ntozake Shange
"Do not live someone else's life and someone else's idea of what womanhood is. Womanhood is you." - Viola Davis
"Every woman's success should be an inspiration to another. We're strongest when we cheer each other on." - Serena Williams
"A charming woman doesn't follow the crowd; she is herself." - Loretta Young
"There's nothing a man can do that I can't do better and in heels." - Ginger Rogers
"A strong woman looks a challenge in the eye and gives it a wink." - Gina Carey
"If you obey all the rules, you miss all the fun." - Katherine Hepburn
"Some of us are becoming the men we wanted to marry." - Gloria Steinem
"No one can make you feel inferior without your consent." - Eleanor Roosevelt
"Cinderella never asked for a prince. She asked for a night off and a dress." - Kiera Cass
"I'm tough, I'm ambitious, and I know exactly what I want. If that makes me a b*tch, okay." - Madonna
"It's okay if you fall down and lose your spark. Just make sure that when you get back up, you rise as the whole damn fire." - Colette Werden
"She remembered who she was and the game changed." - Lalah Deliah
"The age of a woman doesn't mean a thing. The best tunes are played on the oldest fiddles." - Ralph Waldo Emerson
"Women are incredible in groups together. Terrifying. Men have nothing on them." - Michael Hutchence
"Be strong, be fearless, be beautiful. And believe that anything is possible when you have the right people there to support you." - Misty Copeland
Video of the Week
Ellie joined Goodto as a Junior Features Writer in 2022 after finishing her Master's in Magazine Journalism at Nottingham Trent University. Previously, she completed successful work experience placements with BBC Good Food, The Big Issue and the Nottingham Post, and freelanced as an arts and entertainment writer alongside her studies. In 2021, Ellie graduated from Cardiff University with a first-class degree in Journalism.